Reading New Moon: Chapter 19 (The Race)
September 22nd, 2008 at 12:04 am by Kaleb Nation
The song for this chapter is Candle by The White Tie Affair

[audio:https://twilightguy.com/wp-content/uploads/2008/09/candle.mp3]
Last week I got the news that Paramore, known for such hits as That's What You Get and Misery Business, will be contributing two new songs to the Twilight movie soundtrack. Besides setting off a glorious frenzy (adding Paramore + Muse + Twilight obviously gets people excited) the news has also made me aware that the movie people were probably grinning at us the entire time. If anyone remembers, Paramore was the band that the Twilight cast introduced on the VMA's, before we knew Paramore was part of the movie. Sneaky… 😀
With that in mind, I flipped to Chapter 19 as Bella and Alice were boarding a plane to Italy. When they got on the plane I was immediately reminded of my favorite parts of flying: namely, all of it, save for the awful prices of food behind security. Takeoffs are easily the best part, though Bella didn't even seem to notice, being so distracted worrying about Edward and getting to Italy on time.
And finally, mid-flight, the identity of the great and legendary Volturi have been exposed.  I have been wondering since Twilight what the Volturi are, and why people like the Cullens, powerful enough as it is, would fear or respect them. The fact that the Volturri are so old, and occupy an ancient side of Italy, lends even more mystery to them. If they do not age, it must feel odd to them for the transition from Roman Centurion outfits to modern clothes (besides the obvious shift from cart-and-buggy to the grand horseless carriage).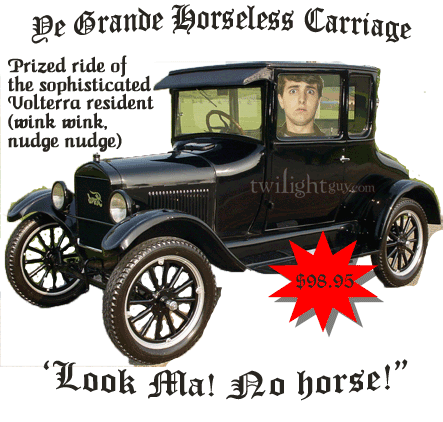 Just as I had been hoping for back while reading Twilight, the Volturi serve as some type of police force for vampires: keeping them secret, and thus in a way keeping them partially civil, as they can't simply run out in the open and make tasty snacks out of us.
I felt so sorry for the flight attendant, whose eyes are probably continuing to widen as he overhears bits and pieces of Bella and Alice's conversation (gasps, questions if Edward has killed himself yet, Bella begging Alice to bite her, etcetera). I also found a wonderful new tagline for Bella on page 442:
Ruining everything.
Destroying the world.
All in a moment of klutziness.
Bella Swan.
Nabbing that sports car seemed remarkably easy; but then again, this is Alice we're talking about. Going down the road at a speed that would make Edward proud, Alice and Bella will be to Volterra in no time.
——NOTES——
— The TwilightGuy shop has been opened! Check out all the designs on t-shirts, bags, and more! Visit the store here and help support the website with the cool designs (all made by yours truly 😀 ).
–IMPORTANT: If you are someone who has been featured in a TwilightGuy Reports story, and have not yet received your prize, PLEASE EMAIL ME. I have not heard back from many of you, and my emails may be stuck in your spam filter.
— My posts this week will be very scattered due to enormous college exams.
— Twilight Series Theories are doing an interview with the Twilight Music Girls, a Twilight inspired band! If you want to send in questions, visit this page, or visit here for more info.
— Hello to everyone who saw Bailey (NoMoreMarbles) and I on BlogTV! Due to the unexpected amount of people, it was impossible to answer all the questions. Please send your questions ahead of the next show to [email protected] and we will answer as many as we can next time!