Candace Charee — The Smell Of Your Skin… (Music)
October 28th, 2008 at 12:03 am by Kaleb Nation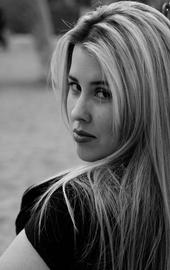 A few weeks ago, one of my chatroom mods told me she had been contacted by a artist on Myspace named Candace Charee. Candace had recently recorded a new song inspired by Twilight, and since I really enjoy other Twilight-inspired groups like the Bella Cullen Project and Mitch Hansen, I went to check out this new one. I was amazed by the vocal prowess and awesome production of what I heard!
With over 18,000 plays on her Myspace already, Candace Charee recently finished recording her first song The Smell Of Your Skin All Over My Body — inspired by Twilight, and written right after Candace finished reading Eclipse! Click below to hear a preview or visit her Myspace page to hear the full thing!
[audio:https://twilightguy.com/wp-content/uploads/2008/10/candacecharee.mp3]
I will be featuring more music from other Twilight-inspired groups and bands on my  site soon!
For the comments: What do you think of Candace's song? Also, any suggestions for other Twilight-inspired groups I should try to get on the site?
Do you have a Twilight-inspired band? Send in your info on this page.
IMPORTANT: for some reason, there was something wrong with the form, so if you have already sent in your music, it was NOT received. Please fill out the form again — sorry for the tech difficulties!

Posted in Twilight Music
Tags: Candace Charee, Music