Twilight Movie Premiere Stuff
November 14th, 2008 at 12:05 am by Kaleb Nation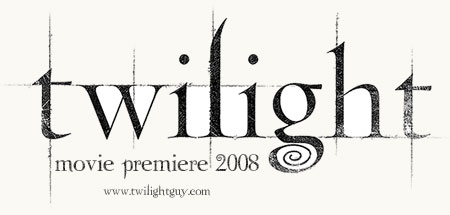 Since I'll be heading off for the Twilight movie premiere and TwilightLive this Sunday, now is the time for me to outline some of the things I will be doing and how I'm going to be covering it!
First off, I really want to thank everyone who donated to help with my trip! You people are amazingly awesome. I had absolutely no intention of going to the premiere, and it wasn't until people began offering to send donations to help me get there that I even saw a chance. Now, thanks to the help of my readers, I will be at the events and grabbing as many photos and video clips as I possibly can!
I did receive a red carpet pass, and will be interviewing Stephenie Meyer and as many of the stars as I can get a hold of. I paired up with the Lexicon, so with that sort of name beside my site we will be able to get some great footage together.
Some other things I might do is a surprise BlogTV one of the nights, an audio-blog from my cell so you get live coverage, and other cools stuffs. It will be a good idea to subscribe to my BlogTV as well as Bailey's if you want to see the live show(s), because it will send you an email when I come on. Keep an eye on this site Sunday and Monday for those things.
On Sunday, I will be flying in very early (I have to be up at 2 AM for the flight) and immediately heading to TwilightLive, at Borders Westwood. This is going to be an enormous event (think hundreds of people, some camping out the night before) and I will be participating in a panel with Bailey (nomoremarbles) and others for a few hours.
On Monday, I will be at the premiere and on the red carpet, doing interviews. Afterward, I will be tagging along with whoever I can attach myself to, so there is no telling where I will be in LA after the event.
If you do see me at any of these events, please make sure to come up and say hi! This is my first Twilight event, as well as my first public appearance that is actually worth calling an 'appearance', so it will be great to meet as many people as I can. Oh, and Rachul the mod will be there, making sure that I don't get my nose broken (AKA what happened in San Fransisco).
It'll be great to know how many of you will be coming too! All I need is your first name and for you to check which events you will be at. This takes two seconds and will help me know how many people who regularly read my site will be at the event.
Posted in Events, Twilight Movie
Tags: Twilight Movie Premiere