Where I've Been
March 28th, 2009 at 8:31 am by Kaleb Nation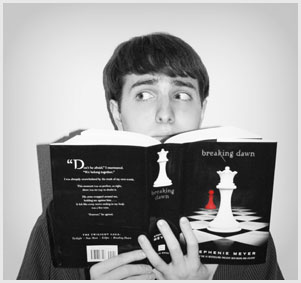 As many of you have probably noticed, the new design for Breaking Dawn is up! After my nice week of a break (and getting caught up on school after the DVD release!) I will be starting on Breaking Dawn this Monday or Tuesday!
Meanwhile, I've had a lack of posting due to being ordered to bed by midnight every night this week (as opposed to my usual 2 AM). This is because I am getting my author photos taken this weekend, and since these will be used for worldwide marketing it's really important I don't look sleepy in them! In fact, they will be done by the great Amy Howe, the same photographer who did Solomon Trimble and some of the other Quileute cast! (see more of her work here) I will have the results of those very soon (ADDED: the photos Amy just posted to her blog are the fun one's we did after the shoot — I'll have the real one's on my website in about a week (minus the crazy hair and monstrous grimace!) ).
Also, for those of you who enjoy my music, here's the latest (download it for free here).
I can't wait to start Breaking Dawn in a few days!
Posted in Uncategorized
Tags: Breaking Dawn, Music