Books and BlogTV
April 18th, 2009 at 2:05 am by Kaleb Nation
Under normal circumstances, I wouldn't devote an entire post to my book on my Twilight blog. However, today is a very big day for me, and I'm so excited about this I have to show it to everyone: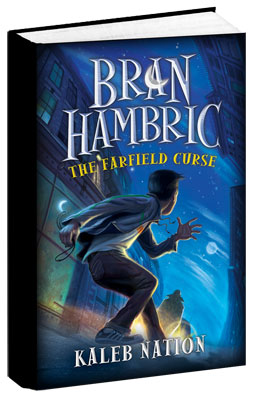 Yes, that is my name on the cover, because this is the art for my debut novel, BRAN HAMBRIC: THE FARFIELD CURSE, due in stores on 9-9-09 (which is important, since I started writing the book on 3-3-03!). The biggest dream I've had is to get my own book published: and now, six years after writing the first word, things are finally happening! Here is a video trailer I made, and you can find out more at BranHambric.com if you're interested:
I will be doing a LIVE BlogTV show THIS EVENING on my channel
to talk about the cover, the past year of TwilightGuy.com, and all sorts of other cool stuff. I don't exactly know the time I'll start yet, but I'll post it on my Twitter as soon as I do (my Twitter posts up there at the top of this page too, next to my photo).
Posted in Uncategorized, Videos