Reading Breaking Dawn: Chapter 11 (The Two Things At The Very Top Of My Things-I-Never-Want-To-Do List)
May 18th, 2009 at 12:05 am by Kaleb Nation
The song for this chapter is by Looking Glass by Birthday Massacre

[audio:https://twilightguy.com/wp-content/uploads/2009/05/lookingglass.mp3]
If the title of this chapter was made of stone, I feel as if my entire post might suffocate under its weight. Jacob Black is obviously not one for truncating his thoughts into bite-sized morsels, and if there was so much as another word added, it appears the title would spill into three lines. I seriously dread any attempt to write an entire book from Jacob's point of view (if anyone says one word about Ru***t N**n, I'll spit ink) but if Stephenie happened to attempt such a task, I would expect chapter titles such as:
Chapter 5: There Are Two Things On This Planet I Hate Most And Only One Of Them Sparkles

Chapter 9: I Forgot My Shirt Again But That's Okay I'm Teh Hawtness And All Dah Other Boys Are Shrimps

Chapter 37: There Are Two Thing On This Planet I Hate Most And One Of Them Is My Shirt

Chapter 38: The Other Sparkles, Do You Understand What I'm Saying Yet?
But quite seriously the chapter titles are one of the funniest things I've read in this book. Gives a nice glimpse into what Jacob's really thinking, especially when those thoughts have to do with his Things-He-Never-Wants-To-Do list.
One such thing on this list, I am guessing, would be killing Bella Swan. But the voice of the Alpha has come between what he wants to do, and is now forcing him into doing what the pack dictates. Seeing the Cullens fight as they trained against the newborns in Eclipse has inadvertently given the werewolves insight into their fighting styles, and of course where their weaknesses are.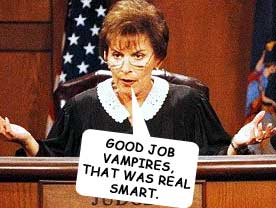 But as I suspected, Jacob simply cannot go along with this. How could anyone, no matter how much mind control was being used, actually make themselves kill someone they loved? Sam doesn't even understand this at all. If Jacob was to be a part of this massacre of the vampires and Bella, it wouldn't just fade away like an old sore. Jacob would have to live with this for the rest of his life, and Sam would either be forced to send him away or to constantly use his Alpha authority to make him follow orders. The separation of the tribes was inevitable.
It's curious how the werewolf history comes into play, because up until now you've really had two chiefs of this tribe, but one of them hadn't yet realized his birthright. It's a bit of a revelation of sorts that I hadn't seen coming so much, because I had forgotten the history of Ephraim Black and Levi Uley. Jacob Black ain't part of nobody's tribe: Jacob Black is a Lone Ranger.
Still, nice to see that Seth decided to be on Jacob's side, even though I didn't doubt for a moment he'd find a way to join him. Unfortunately for feuds, when you get to know your enemy, it becomes uncommonly hard to kill them.
But now it has come to the point where Bella is sinking. She can't even sleep on the couch anymore, but has to be hooked up to all sorts of medical gadgets just to keep her alive. What is this growing inside of her? If Carlisle can't even use an ultrasound, no one has any idea what is growing in her, or if it is even living — vampire, human or not. Just seeing Edward's reaction, I'm getting nightmarish images of the monster at the end of Hellboy.
However, I have a strange trusting of Bella's maternal instincts. Despite my reserves of faith in her usual good judgment, she doesn't seem willing to let anyone close to her that might hurt her child. Rosalie, who hasn't been able to have a child of her own, seems to be very protective of Bella — almost as if through Bella, she might finally get the resolution she needs. Though seeing how Bella is deteriorating, I can't blame everyone around her for being concerned. No one knows what this is. Obviously, and ominously, no one has tried having a vampire's child before, and survived to tell about it.
QUESTION FOR THE COMMENTS: If you were a werewolf, would you want to be a member of Jacob's pack OR the Alpha of your own?
——NOTES——
— HisGoldenEyes.com has asked me to help let the fandom know that their site is currently down due to some minor tech difficulties, thanks to a virus planted in their forums by a hacker. They'll be back shortly!
— For the people who follow my vlogs:

Posted in Breaking Dawn, Videos
Tags: Jacob Black, Sam Uley