NEW MOON Live Streaming Webcast!
November 9th, 2009 at 2:34 pm by Kaleb Nation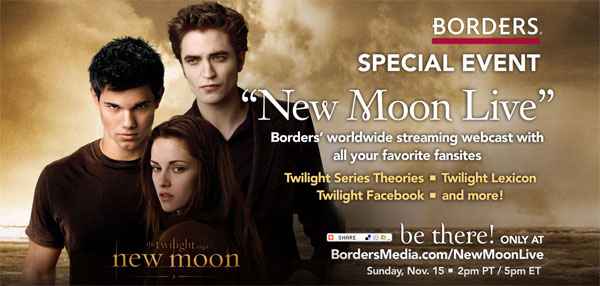 The huge premiere for NEW MOON is coming up a week from today, and Borders has partnered with a bunch of the top Twilight websites to bring you the ultimate live webcast! It will be broadcast via live video from the Borders Westwood store in Los Angeles, CA, on Sunday, November 15 at 2 PM PT. You can watch the stream at www.bordersmedia.com/NewMoonLive. There will be a ton of special guests at the event, so you won't want to miss it!
I am not part of the live stream this year but I will be at the store covering the pre-premiere events. If you're in the area for the premiere, be sure to arrive at the event early, because there will be a huge line (last year, people were camping out hours before!).
NEW MOON Webcast – Borders Westwood – November 15, 2 PM PT

NEW MOON Red Carpet Premiere – Mann Theatre, Westwood, CA – November 16
Posted in Twilight Movie
Tags: New Moon Premiere