CALLING ALL LOS ANGELES TWILIGHT FANS! Special ECLIPSE Movie Pre-Screening!
June 4th, 2010 at 6:04 pm by Kaleb Nation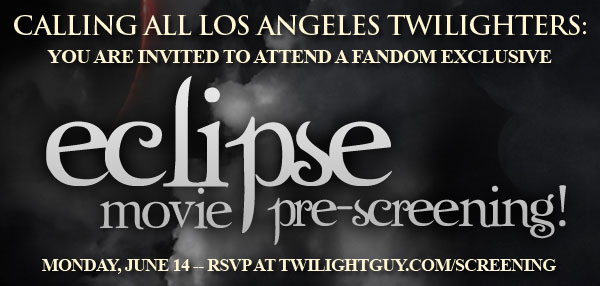 If you're in the Los Angeles, California area, I've got what could be one of the biggest TWILIGHT SAGA opportunities ever!
Summit Entertainment is holding an extra-special, Twilight-fandom-only PRE-SCREENING of the upcoming ECLIPSE movie, and they're letting fansite operators give out the passes! The only requirement to get in: you've got to be in Los Angeles, California, and you've got to be a Twilight fan!
Here's how it'll work, in the words of Summit Entertainment:
"Our Los Angeles-based readers have the chance to attend a SPECIAL ADVANCE screening of THE TWILIGHT SAGA: ECLIPSE on the evening of Monday, June 14! Just visit www.TwilightGuy.com/screening and fill out the form with your name and contact info, and we will respond with the screening details as soon as we have them finalized!"
I will be at this special screening as well, so if you're in the area and want to meet at an awesome Twilight event, this is the one!

Posted in Eclipse Movie, Events