HP Alliance!
July 11th, 2010 at 10:34 am by Kaleb Nation

Hey everyone! I haven't posted here in a few days because I've been out at VIDCON!!! It has been the most amazing convention on the face of the earth.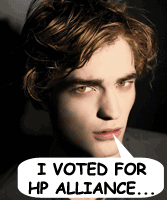 I met a ton of fandom people and last night I was grabbed by a guy at the HP Alliance (you have probably heard of it already from the Twitter storm!). Basically, they are a huge charity build from fandoms like Harry Potter and Dr. Who and Twilight and more, trying to win a giant contest for $250,000 to send books to kids. The Harry Potter fandom has really made this explode but they are reaching out to the Twilight fandom for help!
This takes NO MONEY and all you need to do is VOTE! If they win, it's pretty much like you're donating to them without having to pay because you're helping them out! Just CLICK HERE and go vote for the HP ALLIANCE. They're in the lead, but the deadline is Monday at 11:59 PM EST and we need to keep them there!
Also, you can help by tweeting about it and sending people to http://bit.ly/hpaFTW . It's an awesome way to come together as fandoms and help kids!
More info on HP Alliance is at http://www.thehpalliance.org/about-us
Posted in Uncategorized
Tags: HP Alliance