Erupting Star Is Not Real [AKA: Brains, Please Use Them]
September 11th, 2010 at 8:16 am by Kaleb Nation
EDIT: Read a preview of ERUPTING STAR at Twimore.com (8/2/11) –>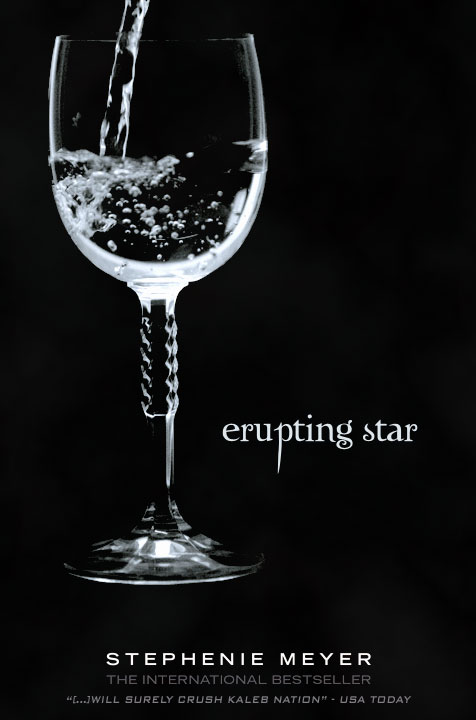 Yesterday I posted on my blog about my book coming out next month and how hard we're working to make it hit the New York Times bestseller list. I mentioned in passing that the only thing that might wreck our plans was if "Tomorrow, Stephenie Meyer might announce that ERUPTING STAR, her sequel to Breaking Dawn told from Charlie Swan's perspective, will be out IMMEDIATELY, divided into 10 children's paperbacks.".
Great sparkly forearms…! The emails and tweets I'm still digging through…
This is not some insider information I have from Stephenie. There is no Erupting Star novel. There is a reason that post did not go on TwilightGuy.com. Stephenie is not writing a ten-book childrens series from the perspective of Bella's father with the words "[…] WILL SURELY CRUSH KALEB NATION" quoted from USA Today on its cover.
The past 24 hours have been amusing. It brought me back to the day when I said I'd been cast as Edward Cullen and the world imploded. But no. This is a clever Photoshop, 4 teh lulz & teh lulz only.
But if Stephenie still wants to write a childrens series called Erupting Star from Charlie's perspective, that's alright by me. Just don't put it out around 10/10/10  😉
ADDED 8/6/11: Erupting Star has made an appearance in my new video 🙂
Posted in News, TwiRumors
Tags: Erupting Star