The Start of a Journey
April 16th, 2008 at 12:35 pm by Kaleb Nation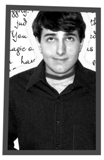 My name is Kaleb Nation, and this is the start of a journey.
I am a writer and a radio show host from the United States, and it was not until 2007 that I heard of author Stephenie Meyer. At the time, I did not pay attention to her books, because so often new trends come along for teen readers and disappear just as quickly as they came.
This book, however, has not gone away, and in fact has grown to become a phenomenon, sitting on top of the New York Times bestseller list for almost all of its 35 week run on the charts. Any book that knocks Harry Potter down any at all grabs my attention, but this book not only passed Harry up but continues to stay there.
I realized also the power of Stephenie Meyer when I wrote a post on my regular website, kalebnation.com, spoofing that I had been cast as some character named Edward Cullen in her upcoming movie. Within 24 hours, my website was receiving thousands of visitors simply by saying Stephenie's name. This same phenomenon happened nearly every time I wrote a blog about her.

The last straw was when I looked at the front page of my own website, and realized that I had 4 posts about Twilight, and only 2 about my own book series! Besides the constant prodding by my readers that I should bloody well read the books, pressure began to surmount as I watched the frenzy every time Stephenie showed her face in public. An American J.K. Rowling? I had to find out.
And thus, despite the fact that I am a guy, and I do not read vampire romances, nor werewolf romances, nor hobbit romances, nor any other romances, I bought Twilight, the first book in the series, and am now reading it. This website is my journal, as I seek to discover how Stephenie Meyer has cast a spell over nearly every girl in the world.
Posted in Twilight
Tags: Stephenie Meyer, Twilight