Reading Twilight: Chapter 1 (First Sight)
April 18th, 2008 at 8:32 am by Kaleb Nation
The song for this chapter is Seven Days of Lonely by I-Nine:
[audio:https://twilightguy.com/music/sevendaysoflonely.mp3]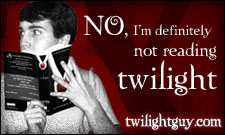 The first thing I noticed as I read Chapter 1 (First Sight) of Twilight was the usage of big words like inconsequential, omnipresent, claustrophobia, apprehensively. I feel as if I'm reading something from Jane Austen, which I am actually quite convinced is the point. Sorry for starting off on this tiny detail, but using the word 'inconsequential' on the first page of one's book is an instant plus-3-points on my end, since most books these days would just say 'no matter what' and miss that Meyer flourish. Already off to a good start.
I actually like Bella for some reason, right off the bat. She isn't stupid and she doesn't have her nose in the air. When her dad gives her an old red truck, she is actually pleased with it. She's normal but not a complainer, and that really stands out.
And speaking of her truck, what's the first thing you think of when I describe a vehicle with a "...faded red color…big round fenders…one of those solid iron affairs that never gets damaged…"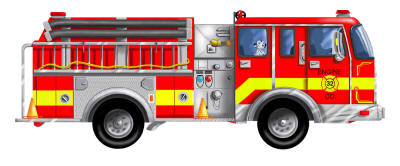 In fact, if Bella was driving that special vehicle, she'd get the best parking at the school and just sit it right up front in the Fire Zone.
Also, I really liked the name of Coach Clapp.
Principal: Class, may I present to you…Coach Claptrap.

Applause.

Coach: It's Coach Clapp, sir.

Principal: Apologies. Class, may I present to you…Coach Crap.
Even more applause.
So overall I am quite enjoying the read and I'll be onto chapter 2 sometime this weekend, and perhaps find out more about this Edward fellow. I am actually looking forward to it, so I'll write about it Monday-ish.
Posted in Twilight
Tags: Bella, Bella's Truck, Coach Clapp, Edward Cullen