Reading Twilight: Chapter 2 (Open Book)
April 22nd, 2008 at 1:54 am by Kaleb Nation
The song for this chapter is Rainy Monday by Shiny Toy Guns:
[audio:https://twilightguy.com/music/rainymonday.mp3]
In light of yesterday's confession which nearly got me a noosing (and plenty of emails referring me to St. Brigotti's Hospital for the Mentally Deranged), I decided to take drastic measures so I'd never again forget to bring The Book.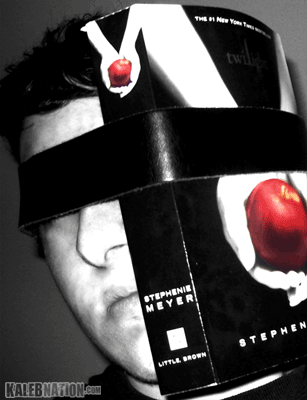 So there, I can't miss it. Tell the sisters at St. Brigotti to cease and desist fitting me for an abbot habit.
Anyhow, I was so eager to get on to Chapter 2 that I stayed up late reading it, even after flying back in from my rather eventful weekend. Right off Stephenie's got me back to this Edward fellow, and the fact that suddenly he's not at school was a twist I hadn't expected.
The reason I didn't expect it is because my brain is still mentally stereotyping this book as a traditional vampire romance. But in traditional romances, twists don't happen. Princess Wilhelminabonk swoons into the arms of Prince Dashingbunk, he drains her blood and she becomes his corpsish bride for an eternity of bliss and bloody good dinners (British pun intended). Twilight, luckily, is different already.
I finally get to hear Edward say some stuff, and right off I am getting hints of why the girls love him. He's extremely polite for one thing, and when he talks there's a flourish to it. But something that leaps out at me right off is that he is a professional listener. Guys especially, take heed of what I say next: you must learn this from Edward Cullen.
I don't know if Stephenie did research on this, but in radio and interviewing I learned a way of how to make conversation with people who might as well be brick walls. And when Edward first talks to Bella, she's the brickiest wall I've ever seen. So to keep Bella talking, Edward uses a technique of repeating what she says back to her, reworded, to show he is listening, and to keep her talking so that she will open up. For example (paraphrased):
Edward: "It's too bad about the snow, isn't it?"

Bella: "Not really."

Edward: "You don't like the cold."
Notice how sharp Bella is, and how he simply repeats what she told him, in a way making her embellish on it and say more, and to become positive by agreeing with him by saying something like "yes, you're right, this cold is abysmal" next. This is a very professional technique that Edward uses all throughout this chapter. Another example:
Bella: "(My mom) stayed with me at first, but she missed him… it made her unhappy…so I decided it was time to spend some quality time with Charlie"

Edward: "But now you're unhappy."

Bella: "And?"

Edward: "That doesn't seem fair."
Notice how Edward is keeping the conversation going, showing openly that he is listening to her, and gently keeping her talking to (and agreeing with) him, while showing that he cares. I am literally surprised! He is a pro at this like nothing I've seen before.
However, I do feel pretty bad for Mike. That poor guy's trying everything he can to get Bella's attention, but she's stuck on a vampire. What's a guy to do when the girl you're after is more interested in Edward Cullen? Since you all know much more about me on this, something may happen later and I just don't realize that Mike's a serial vampire slayer in sheep's clothing, so bear with me.
But back onto the cars again. Bella's suddenly reminds me of an old truck we were fixing up back at home. Namely, this line:
I gunned my deafening engine to life…trying to pretend that the earsplitting rumble was coming from someone else's car…
Deafening and earsplitting are key words here. The truck back home quite literally starts off like a cannon, with the enormous BOOM and smoke like Medusa's Swampmobile, before settling out to a very even rumbling that resembles what would happen if two mountains started scratching each other's backs. My mom said that it makes so much noise, she doesn't care where we go in it, because all she has to do is listen outside and she'll know where we are in town.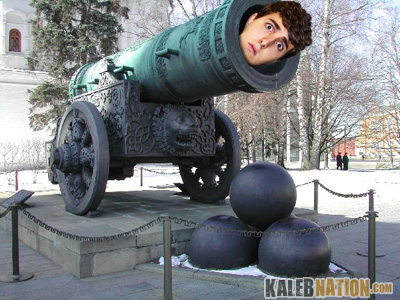 Twilighters punish me for leaving The Book at home while I traveled
Overall, I'm still really liking it, and I'll be onto the next chapter as soon as I possibly can. I skipped work on my college final essay to read Twilight, so I shall read the next as soon as I get it turned in.
—–IMPORTANT MESSAGES—–
– For all of you kind people who have been friending me on Facebook, I'm sorry but I can no longer add you to my friends list unless I personally know you. I can, however, add you to my Myspace site, which I'd be really glad to friend you on!
– When setting the book down, I noticed that my site is now at number 9 on the Twilight Top Sites. I can only say that a website still in its infancy, nary a week old, should never get that honor with such names as Bellaandedward.com and the Twilight Lexicon. However, I am overjoyed to be there, though their stats page of my site is a bit incorrect (try closer to 25,000 visits yesterday 🙂 ).
– Also, to all of you who have sent emails: I still am going to reply to you. I just have to find a few spare hours, because literally if I only spent 5 minutes on each one I would be here an entire weekend (and I actually enjoy sleeping sometime).
Posted in Twilight
Tags: Bella, Bella's Truck, Edward Cullen, Medusa, Mike