Reading Twilight: Chapter 3 (Phenomenon)
April 25th, 2008 at 1:28 am by Kaleb Nation
The song for this chapter is Hero/Heroine by Boys Like Girls:
[audio:https://twilightguy.com/music/heroheroine.mp3]
After being impressed with One and Two, I've been looking forward to getting back to the book. So despite what I told Sarah Ockler yesterday, I zapped a bag of popcorn and sat down to munch whilst enjoying chapter 3 of Twilight.
Like Bella, I'm struck that her dad so graciously chained her tires before she even woke up. This is a very curious thing about dads: you will very often find that they go ahead and do important things for you that you might not have thought of before. Charlie strikes me as one of those fellows who doesn't say much but really wants to do good, so after seeing that he's got a heart behind him I actually like him.
My apartment-mate has a regular practice of slamming the AC down somewhere in the low 50's in the middle of the night (thus prompting me to make this often-ignored sign). As I read this chapter, I am being chilled to the bone even though I also have a space heater running to keep my fingers defrosted. Coincidentally, Bella is also getting her share of chills, be they from the snow or from the strange way Edward is acting.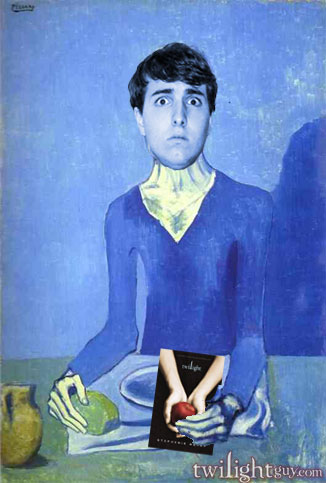 "When I opened my eyes in the morning, something was different…it was the light." (Bella, pg 53)
I notice that Edward is having very frequent mood swings. First he is quite the grinning, patronizing fellow, and then the next minute he's clenching his teeth and hissing like a snake at Bella. This strikes me as odd, though I'm getting a hint that it means something important, other than the possibility that Edward is alarmingly schizophrenic.
A girl reading from Romania sent me an email a few days ago and made mention of one particular aspect of Edward that she adored (amongst the 54,923,429 others she proceeded to list for me, as my to-do list for the next century). I had not noticed this before she pointed it out, but in this chapter, Edward is not afraid to argue back with Bella. In a common falling-in-love scenario, Jomeo the plumber and Ruliet the electrician simply agree on everything and live blissfully contradiction-free (however hard it is to noncombustibly mix stopped-up drains and electricity). However, this Edward doesn't give up the fight: when he's right, he's right.
This is a very strange thing to me. In the chapter before, he was a very strong listener. Now, he won't give up. The way I see it, from where I am in the book, is that there is something really bothering Edward which I will most likely discover as I read along (and don't anyone bloody tell me in the comments, either). His sudden changes in demeanor (along with his sudden changes in eye color) tell me that something is really up with this fellow. But I am curious as to if this is a feature idolized by one girl or if it is something that girls really do like about Edward (dare I suggest it's something some girls don't like about Edward)?

Whoops. Me and my big mouth.
Chapter 3 was about half the length of the last two and seemed to go by so quickly. I had to take a peek at the first page of Four. All is going well!
—NOTES—
— I have been invited to write an article for a major movie news website about Stephenie Meyer, and will need some input from any of you who wish to participate. I'll post more info on this soon.
— Twilightguy.com is now inching up on the Twilight Topsites! Only 240 people short of Number 7. The odd thing is, their stats are very much off, so we're doing a lot better than what they say. Thanks for all the great 5-apple reviews!
— I have stumbled upon uncountable websites and Myspaces who have up the Support The Twilight Guy buttons! Thanks so much to everyone who is posting them on their pages.
— I have gotten uncountable requests from people to read my book. This is quickly becoming a FAQ. The book will come out in late 2009, but if you email me, I can send you the first few chapters of The Farfield Curse.
— Another FAQ: can you suggest songs for the chapters? The answer is yes, please feel free to email your suggestions for songs for the chapters. I'll probably add a page for this soon, but for now emailing me works great.
— There is a new video coming for all you people subscribed to my Youtube channel. I just shot the video but I've still got audio to wrap up. I'll either have it up Monday or the weekend.
Added April 25, 7:31 AM : I woke up this morning with a sore throat, and thus can't do the voice for the video yet. I'll get the video once I'm back to normal 🙂