Reading Twilight: Chapter 4 (Invitations)
April 29th, 2008 at 4:00 am by Kaleb Nation
The song for this chapter is Things I'll Never Say by Avril Lavigne:
[audio:https://twilightguy.com/music/avrillavigne_thingsillneversay.mp3]
After being told that I absolutely had to watch School Of Rock because it had the all-too-Nation-relation-looking Jack Black in it, I faced a dilemma: Watch the very guy-movie School of Rock? Or read the next chapter of Twilight?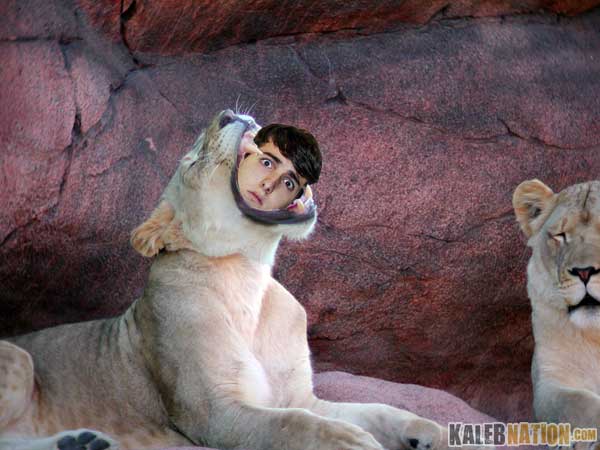 Pardon Me While I Get Thrown To The Lions
"Fool!" you scream. "To the lions with him for even considering such an outrage!"
It really wasn't that hard of a choice, when you take into consideration that after such a painstakingly long time to get back to the book, I am super-eager to find out what happens next. So, I tossed aside School Of Rock for tomorrow evening and pounced upon the next chapter in Twilight.
I simply love the fact that Bella is such a klutz. Granted, I've run into my share of walls and tripped over plenty of feet (at least half of them mine) but Bella brings new meaning to the term 'danger magnet'.
Principal: "And over there, inspectors, we have the gym–"

CRASH! SHATTER! BASCREEECHHH!! SCREEE!


School Inspectors: "What the rot was that?!"

Principal, going pale: "Oh, that's just Bella Swan. She must have tripped over her own feet again."

School Inspectors mark big X under column labeled Student Safety Conditions.
As for Bella, she's got the school buzzing about her. What, first Eric, then Mike, then Tyler? I was half expecting her chicken enchilada to ask her out next. This is a very interesting scenario, especially because she turns them all down flat, plans a trip to run from town, and then suddenly- Edward Cullen will be coming along to keep her company.
Thus the web begins to weave. Now we have Jessica who asks Mike, Mike who wants Bella to ask him, Edward who doesn't want Bella with Mike, and Bella who doesn't really know at all what she feels for Edward. Four men (and counting) are after Bella. Complications, here we come. Possibly, a duel.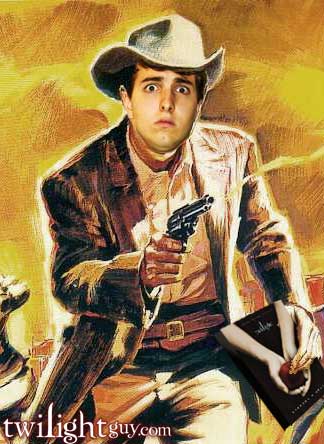 Here's the deal: Bella's already fallen for Edward, and yet she doesn't want to admit it. While we're getting into Bella's head, there's something behind the way she's acting that she doesn't realize, even though it's very obvious to us. She gets a thrill just saying his name out loud. Now, they're going on a short trip out of town, while all their friends are back at the dance.
I think it is part of the nature of some people, where they just don't realize what they're feeling. Bella seems to be so angry at Edward but at the same time, she obsesses with the thought of him and has dreams of him at night. She seems to be having an inner battle as to if she likes him or loathes him, and one side is going to win out eventually. During the ride to Seattle, perhaps (don't tell me!)?
Things like this always seem to happen that way: everybody else knows you're in love, except for you, and meanwhile they're all giggling and pointing and you don't know why. Anyone been there before? (the answer)
—NOTES—
– Thanks everyone for all the help with my article! After over 400 people sent in their stories, I am now very happy to say I've gotten enough feedback for a century of columns. I will be writing the article and telling everyone where to read it once it's up!
– If you want to submit some song ideas for chapters of the book, you can now send those in by clicking on the link in the right sidebar —-> down at the bottom of all the other stuff.
– Tomorrow, another TwilightGuy gives his story involving Very Aggressive Twilighters, (VAT for short).