Reading Twilight: Chapter 5 (Blood Type)
May 2nd, 2008 at 4:00 am by Kaleb Nation
The song for this chapter is The Weather Girl by Shiny Toy Guns:
[audio:https://twilightguy.com/music/theweathergirl.mp3]
So I had expected this entire week to be abysmal, given the fact that I have college finals nearly every day on top of my other duties. But the way it happened was quite the opposite. I had my first two done in a flash, my third this morning finished off with 45 minutes to spare, and I actually got to eat lunch today. Oh joy!
But I realized one tiny detail. One more exam. Math.
So in case I am not still in the land of the living after around 2-ish, I wanted to at least bite into the next chapter so I am not left for eternity with all the questions still in my head. On to the fifth!
After hearing that Edward listens to Debussy, I went on Amazon to try a clip of Clair de Lune. I previewed the first one I saw, and was shocked at the horrific sounds which came forth. It sounded like someone was playing the piano and opening and closing a creaky door while splashing in a bathtub at the same time. The squeals were deafening.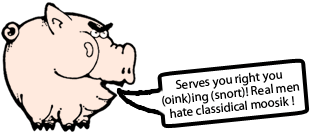 Then I realized I was listening to Clair de Lune With Songs Of The Whales, in which they had dubbed whales over the music. Suddenly it made sense and became somewhat relaxing (though I did skip to a whale-free version to get a taste of Edward's music).
Something in this is another reason I think girls like Edward. He has a sense of old-fashioned class about him. A lot of guys these days think that you have to be pig-headed and macho in order to keep your man card (we saw a perfect example of this yesterday). And some girls fall for it, even if it's not really what they want: and when girls fall for guys like that, sometimes it tells the gentlemen that they're doing things wrong and need to become pigheaded like the others.
But here's Edward Cullen, opening doors for Bella and listening to classical music, and being guy #1. Granted, I don't think that girls like him specifically for the fact that he listens to classical music, but more so because he has enough class to at least try it and enjoy something other than whatever is popular. He has a side that is classy and that likes the finer things. Edward can march to the beat of a different drummer instead of just always going along with what's popular.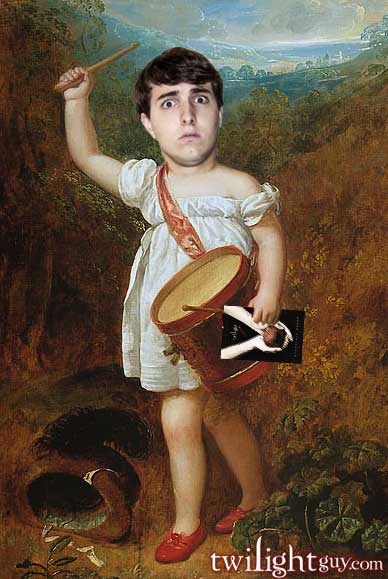 Marching to the Beat of a Very Different Drummer
Secondly, I became almost as terrified as Bella when they started talking about taking blood samples in class. Me, I've never been a good one for shots. In fact, up until around age 15 (okay, 16), I was so terrified of needles that I would have to sit there and play games on the cell phone just to keep my mind partially distracted.
This was not helped by the fact that I always seemed to get the most inexperienced nurses who had previous careers in harpooning, and preferred to use the largest needles possible and simultaneously practice voodoo rituals while poking me. I can perfectly see why Bella's so faint.
Pg. 98: "She's just a little faint," he reassured the startled nurse. "They're blood typing in Biology."

The nurse nodded sagely. "There's always one."

Edward snickered. "Well this time there were two. But I left Kaleb crumpled on the floor moaning his horrors."

The nurse nodded sagely. "Hope nobody trips on him."
——NOTES——
-If you emailed me and haven't gotten a reply, I'm still getting back with you…right after the final Final.
-My article on Stephenie will be written this weekend and put up by Them sometime after. You'll know when.
-I was working on a new video but I put it on hold for after I recover from post-exam exhaustion.

Posted in Twilight