Some Guys Will Never Learn
May 1st, 2008 at 4:01 am by Kaleb Nation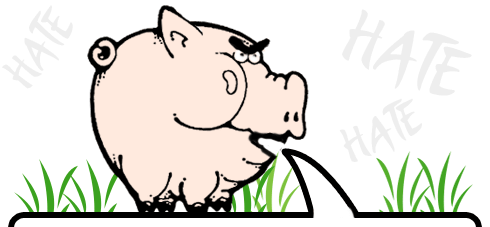 WHAT
THE (SNORT SNORT)
IS WRONG WITH YOU! ARENT U SUPPOSED TO BE SOME SORT OF A GUY OR
SOMETHING CAUSE U SURE ARENT LOOKING LIKE ONE READING A BOOK LIKE
TWILIGHT! I RED THE FIRST CHAPTER AND IT WAS SO STUPID I WANTED TO BURN IT AND I
MAY STILL DO IT! MY GF TRIED TO MAKE ME READ IT SO I JUST DUMPED
THAT (SNORT
SNORT) BECAUSE REAL GUYS…
(SNORT, SNORT,
OINK, SNORT)..
YOU (SNURGLE)! WHAT A (OINK)ING (SNORT)! MAYBE IF YOU WEREN'T
READING TWILIGHT YOU WOULD HAVE A LIFE YOU (SNORT)HOLE (SLOP SLOP)!
OH AND YOU WRITE
LIKE A (SNORT) SO EVERYONE WILL HATE YOUR (OINK)ING BOOK!!! GET SOME (SLOP)S AND STOP REDING THAT STUPID BOOK TWILIGHT!!!
GJ

(Sorry, some words were lost in translation 😉 but I just had to post it. Next chapter early tomorrow!)
Posted in Hatemail