Some Guys Will Never Learn (II)
May 30th, 2008 at 1:00 am by Kaleb Nation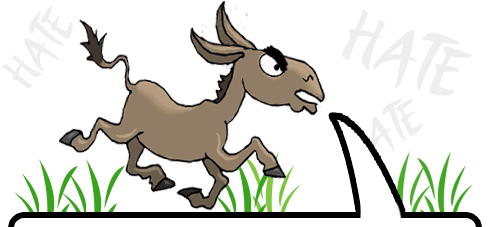 OKAY IDIOT, SO I COME BACK TO YOUR SITE TO SEE IF YOU'VE LEARNED
ANYTHING OR LISTENED BUT (HEEHAW) YOUR (HEEHAW) IS STILL HERE!
AND YOU PUT MY (HEEHAW)ING EMAIL ON YOR SITE!!! YOU KNOW I COUD
PROLLY SUE YOU FOR THAT SINCE YOU DID NOT ASK TO PUT IT UP, IDIOT
(HAW)ING (NEIGH).
YOU MUST BE A (HEEHAW) OR SOMETHING BCAUSE
NO GUY WOULD PICK UP THIS (SNORT)ING (HEEHAW), BTW I SAW IT ON SOME
GIRLS DESK YD AND SO I PICKED IT UP AND JUST OPENED IT, AND THERE
WAS SOME (NEIGH) ABOUT EDWARD AND LIKE HIS SUPER HOT FACE AND
OTHER CRAP. I WENT OMFG AND WANTED TO RIP THE BOOK UP. IT IS JUST SO
STUPID AND NO WONDER A LADY WROTE IT SINCE ANY GUY WHO ACTS LIKE
EDWARD IS EITHER STUPID OR A (HEEHAW)ING MORON WITH NO (HEEHAW)S.
YOU GO TELL ALL YOUR 'MILLIONS OF FANS" (yeah right to (name removed) like
you caleb has anywher near, most of twilight guy fans are proll y
guys cause calebs a (HEEHAW) and i get more girls than this (HEEHAW) caleb guy) TO JUST GO ON DREAMING CAUSE THERE IS NO SUCH THING AS
EDWARD (HEEHAW)ING CULLEN! AND THAT (name removed) GIRL WOULD PROLLY BEG ME TO
(HEEHAW) WIT HER SO SHUT UP.
SOO IF YOU PUT THIS ON YOUR SITE I (HAWHEE)ING
SWARE I WILL SUE YOU!!! O AND SO U NOW MY GF CALLED WANTING ME BACK
BUT I SAID (HAW) BECAUSE NOW I KNOW ANYBODY WHO READ TWILIGHT IS
A FREAK. THAT MEANS U TOO KALEB (HEEHAW)ING TWILIGHTGUY FREAKIN
PUNK(HAW) (HEEHAW)!
GJ

We last heard from GJ on the first of this month. Just so you know, he can't sue me, because of the email policy. There goes GJ's sole chance at fame and fortune.
I also highly doubt the validity of his claim that his girlfriend called him back.
I would offer him a t-shirt, but then I would need his address, and I'm certain he doesn't want that being passed around. So in place of his t-shirt, count how many spelling mistakes he makes, comment the number you found, and I'll randomly pick one person with the correct answer to get a free shirt from TwilightTeez.com in his place. How's that?
ADDED MAY 31 — This contest closes June 3, 2008. You MUST enter through COMMENTS on this post. Thanks for all the email entries, but they will NOT count, and I cannot reply to the one's I've gotten.  
Posted in Hatemail