Some Guys Will Never Learn (III)
August 15th, 2008 at 12:05 am by Kaleb Nation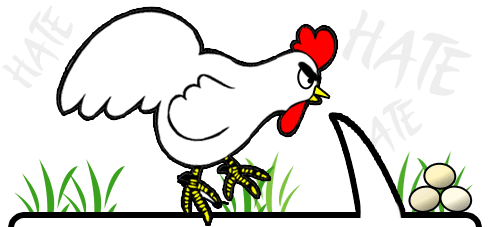 So first all I want to say is that you suck.
Why are you wasting your time on this (cluck-cluck) book? I know why. Because you (bawk-bawk) (cluck)s and your up here and all you do is read a stupid book and thing you are so cool. Well I tell you anybody can read a book and one (cluck-cluck)uva better one than…
[unintelligible chicken scratches]
and give me a (bawk)ing break. any guy like edward is a (bawk). a total (bawk). If you inspire to be like him you are just a (bawk-bawk)head like hhe is idiot. anbyody can read a book stupid, you are not so cool as you think …
[farmer's tractor rolls by]
Is stephanie Meyer paying you to (bawk-bawk) out this (cluck-cluck)?2 Or what did your girlfriend or probably your mom make you and you're too (bawk-bawk) to be areal guy? Grow up or …
[cows moo in bored tones]
so like I promised here are my directions for you if you even care…1 take your site 2 shove it up your (bawk-bawk)ing (cluck-cluck) (becuase that is where all this (cluck-cluck) came from in the frist place) and 3 shut up and read a real vampire book […] yOU aRE mAJOR fIAL!
[farmer begins to wonder what to have for the Christmas Feast]
D. (no last initial given)

Yes, he really did spell 'Fail' wrong at the end. It was like a cherry topping this delightful ice cream sundae.
Finally, a new hater other than GJ: and with nearly the same skills and vocabulary! He rambled on for quite a while more, but that's the best-of. The most unfortunate thing is he sent it in from my other website: which means he actually spent time exploring my other pages… 😀
As usual, I would give him a shirt, but I don't think he will give me his address (his email address was obviously fake as well, as all it was was a bunch more…chicken noises 😉 ). So, I will be giving his t-shirt to a randomly selected person who COMMENTS on this post with the number of SPELLING MISTAKES (not any of the swearing or grammar, just spelling mistakes). The t-shirt comes from TwilightTeez.com, and if you haven't seen their site, go check out their cool stuff!
Posted in Hatemail