Reading Twilight: Chapter 6 (Scary Stories)
May 7th, 2008 at 5:18 pm by Kaleb Nation
The song for this chapter is Maps Of The Problematique by Muse:
[audio:https://twilightguy.com/music/mapsoftheproblematique.mp3]
The Twilight Guy hath returned! I am very happy to say that I have dueled with the Flu and come out victorious. While I was sick, I kept myself alive with a regular dose of Stephenie youtube videos, as you can see from the last post. Really, she is AWESOME there on stage. I watch her and try to learn exactly how she handles it.
Yesterday, whilst recovering, I dropped in on some people in a few of the Twilight chatrooms I've been invited to. Intending to remain anonymous, some admin tore my mask off in mere seconds and exposed my identity, shortly after which I fled to grab some dinner and a breath of fresh air (chatrooms these days are warzones!). So if you were there and wondering if KN was really me or just an impostor, yes I was there. Next time I'll go as Squidworms or something and see if you recognize me then. But anyhow, on to Chapter the Sixth!
I know Stephenie had fun writing this line: "The bouquets of brilliant anemones undulated ceaselessly in the invisible current…" There is a thing with writers that makes us love flowing sentences filled with big words we don't get the chance to use in public. Words like 'flourishing' and 'alabaster' and 'oscillococcinum' .
A bit further on, suddenly there is YET ANOTHER guy who is showing interest in Bella. I'm losing count of her admirers. Then someone mentioned that his name is Jacob, and I went immediately alert, since this is a name that I have heard before, and just typing it is probably eliciting squeals in some people (yes, I know who you are because you told me you would).
The strongest line I have seen in this book so far came on page 121, and it's when someone asks why the Cullens weren't invited. A nameless person then speaks up and says:
"The Cullens don't come here."
Obviously, there is a very strong reason the Cullens don't come around that part of town.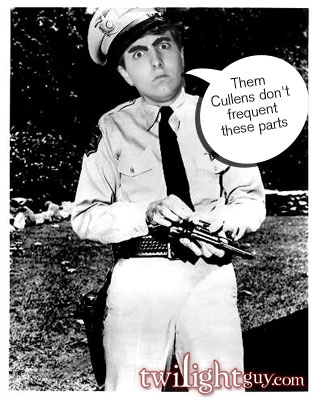 The reason I chose the song Maps Of The Problematique (besides that awesome Muse guitar intro) is because it sounds like it would perfectly start in the film when Jacob starts talking about why the Cullens can't come near. It almost makes me think they are so much on edge, a war could break out any minute.
And Bella thinks a Suburban with nine people in it is stuffed!? She should try riding with nearly the same amount of people and a screaming little pig in the back, who constantly leaps out of his box and tries to hop over the seat. Not that it's from personal experience or anything. No, that would make you people think I spent years of my teenage life as a backwoodsman, wouldn't it? What hick lets a PIG named Mabelene ride in the back of the suburban?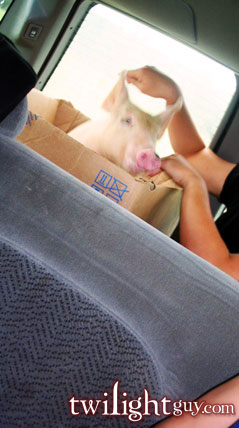 What a laugh. Hilarious story in no way from personal experience (I'm expecting a scathing email from my dear mom any second now 😉 ).
Anyhow, this chapter, like many of you told me, is easily the one where the action really starts to crack open. Immediately, at the mention of werewolves and vampires and their conflict, this is deviating off the strict form of romance and into the world that Stephenie has so masterfully built. I'm always a sucker for a good story with supernatural happenings, but when you throw in the fact that the werewolves and the vampires don't get along, and they're living in the same area of the world, I begin to get excited. Onward through the book!
Oh, and I'm curious- striking Edward and Jacob out of your heads, which do you think is cooler– vampires or werewolves?
——-NOTES——-
–For all you people who asked about my book, there's a cool new teaser site for The Farfield Curse which I think turned out awesome. You can check it out over here. There's a hidden page if you click around.
–I will most likely not be able to make the Frisco signing. But take a ton of pictures for me! I'll hopefully get to meet Stephenie some other time in the future.
–The petition to get Stephenie on Oprah is past 2,000 people! Great work everyone! If you haven't done it already, be sure to go sign your name to it!
Posted in Twilight