Reading Twilight: Chapter 7 (Nightmare)
May 9th, 2008 at 1:34 am by Kaleb Nation
The song for this chapter is How Does It Feel by Avril Lavigne

[audio:https://twilightguy.com/music/howdoesitfeel.mp3]
So after many days of going to bed at 4 AM and waking up sometime around noon, the crazy schedule is finally starting to sink in on me. But bah to that! It's summer break! I felt much relieved to find I had nothing to do today but a quick radio show, record some audio for my Youtube video, and read another part of Twilight. Hello chapter 7!
Bella's computer modem hopped right out at me, since I have suffered through many a slow internet connection in my days. I remember back when we were in a rent house and had degraded from hi-speed to dial-up for 'just a few months' (or so they said). In the time it took to connect, I was able to take a shower, eat breakfast, clean the kitchen, and come up with advanced astrophysical theories to various unsolved questions of the universe before I could even see Yahoo.com appear. And once it was on, I might as well break for lunch if I wanted to click 'Check Mail'. Bella's computer seems to be no different.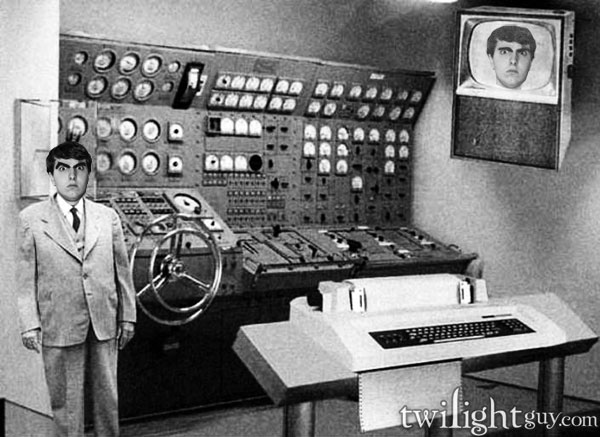 While on the subject of Bella's computer, I should note that she has a very bad virus. After all, simply leaving your screen for a few minutes should not create an army of popup ads. But then, when she did a search for 'Vampire' I realized how she got a virus. There are certain terms whose sites are more prone to carry viruses than others. And I'm sure Bella's on some government list after looking that up. Besides her research finding mostly gibberish:
About this last there was only one brief sentence:

Stregoni benefici: an Italian vampire, said to be on the side of goodness, and a mortal enemy of all evil vampires.

But then I scrolled down, and saw another one below it.

Streganona Kalebici: a Texan local, presumed to be on the side of goodness, and a mortal enemy of all math professors.

"Drat," I whispered aloud. "Wish I had one of those around."
Bella's dreams of Edward have gotten stranger, specifically because now Jacob is in them, when she has only really met him once before (even though she knew his sisters, it didn't seem that she knew him all that well). Also, Dr. Cullen must be a major donor to that school, because his kids are overlooked despite being absent very often, or at least invisible.
Also, I found this line interesting, as I tried to imagine what television program Stephenie was thinking of when she wrote it:
I watched TV with Charlie after dinner, for something to do. There wasn't anything on I wanted to watch, but he knew I didn't like baseball, so he turned it to some mindless sitcom that neither of us enjoyed.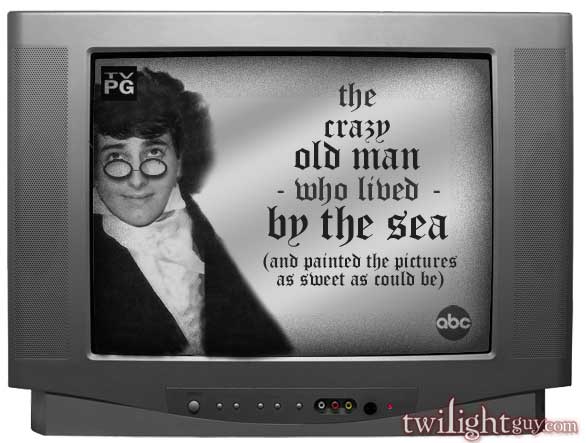 —–NOTES—–
–I finally finished my Twilight Youtube video. I'm not exactly sure if people will think it's funny or not, but I'll post it up anyway soon and you people can tell me. If you're itching to see it, keep an eye on my Youtube channel, because people there will see it a bit before I post it here.
–I finished my article on Stephenie, thanks to all your help! I will be passing it along to the site soon and linking to it from here when they post it.
–I will not be at the Frisco, TX, signing due to lack of vehicular transportation. Also, tickets are completely sold out, and the bookstore told me they are expecting a gymnasium-full. So show up early, tell her I wished I could be there, and if you get any video for a Youtube at the signing, send me the link so I can watch something while I'm knocking my head against the wall 😀 .
Added 12:56 PM : I realized that if I dash off to the airport this evening and watch all flights coming in from Houston, I might jolly well see her coming in. If she's not in a business jet, that is. And if her staff can overlook that odd fellow hiding in the bushes.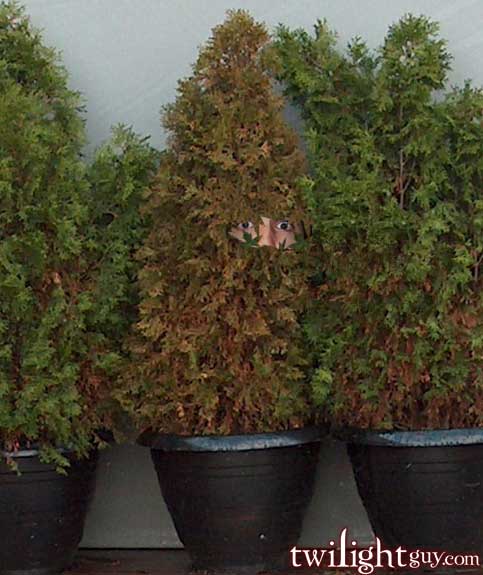 Posted in Twilight
Tags: avril lavigne