Reading Twilight: Chapter 8 (Port Angeles)
May 15th, 2008 at 4:00 am by Kaleb Nation
The song for this chapter is Time After Time by Quietdrive

[audio:https://twilightguy.com/music/timeaftertime.mp3]
Ah, Port Angeles! The chapter which I've heard so much about, where I finally start to find the answers to many of the questions that have been raised so far. I admit, it is hard not to already know that Edward is a vampire, because heck, doesn't everybody know that? But I've still been looking forward to it, and there were actually many surprises.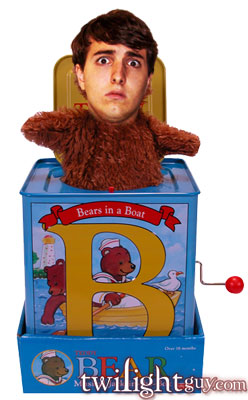 One Surprise I Didn't Find In Twilight
First off, I realized that Forks and Port Angeles are actually in Washington, and I will be stopping there for a day between flights up north. I then immediately Mapquested the distance to Forks, only to choke at a number near 180 or so miles. Certainly not affordable for a taxi. I might as well rent a helicopter. So to you Forkslings: I shan't make it this year, though the photos would have been worth gold for my blog.
Hopefully I don't have to remind you that I am a guy, and my male tendencies begin to win out when the girls go shopping for prom dresses. As I read that part (which is thankfully brief), I might as well be sitting there in the women's section, staring at the ceiling and wishing that I had spent just a little more money on better cell phone games, or had some accident working at the coal mine and been stuck in hospital with my limbs yet to be reattached. I can suffer through shopping, but the problem here is that there are three girls who would talk to each other and ignore me, making me simply a pack-mule for the bags. Anyhow, it's one of those things that I can suffer through, until the party gravitates towards the makeup counter. Then you'll find me in the food court.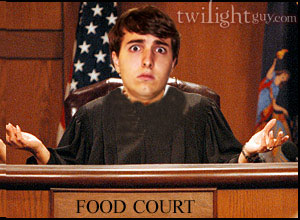 Not The Food Court I Had In Mind
Bella, like me, immediately goes to look for the nearest bookstore. I remember when we were visiting San Antonio, Texas, and my mom had darted into some place to shop for pots and pans (one trip I refuse to partake). I immediately spotted the nearest Borders and dashed in, just to be around a huge store of books for a few minutes of fresh air. Of course, I remember they had so many copies of Twilight, they had to stack them on the floor in a huge tower; but back then, I wasn't quite courageous enough to take a peek, and hurried around the Twilightasaurus before someone might glance in my direction and snicker.
Edward finally begins to reveal some of his abilities, which I immediately found interesting. The fact that he can read minds is one that is intriguing: but I like it better also that he can't outright read exactly what they're thinking. It seems to be more of a slight clairvoyance than a full ability, like he hops from mind to mind trying to keep track of Bella. His revelation in the restaurant was one that I had not expected, since nobody had told me that he had these powers. It leads me to wonder what all of his brothers and sisters can do– or do all the vampires have the same powers? (Don't tell!). I was also very glad that Edward appeared out of nowhere, but I can't resist the wish that he had at least bumped into those guys slightly, to give them fair warning of what will eventually come their way (more than likely a short drop and a sudden stop).
The largest gasp from me for this chapter came when I glanced down at the bottom and realized that I have already read 178 pages of this book. I just keep flipping these pages it doesn't feel like the nearly-200 I'm up to, and when I reached the end of this chapter my eyes automatically went onto the first page of Chapter 9 without even realizing it (don't worry- I corrected my mistake and immediately did a brain-wipe to erase any spoilers).
—-NOTES—-
– I will be leaving for the farthest northern state next week, so my posting will be scattered depending on flights. Glancing with horror at my itinerary, I realized I will be sitting for 6 1/2 hours in one airport, then later the same day, another 6 hours in a different airport. Abysmal misery? Yes. When I pay through the ear for internet in said airports? Slightly better.
– Some people are not getting my email replies. I am caught up on all emails sent to me up to MAY 4. If you sent me a message on May 4 or earlier, but do not have a reply, check your bulk mail folder. I will be getting to everyone else, don't worry!
Posted in Twilight