Reading Twilight: Chapter 9 (Theory)
May 20th, 2008 at 2:00 am by Kaleb Nation
The song for this chapter is Foolish Games by Jewel

[audio:https://twilightguy.com/music/foolishgames.mp3]
VIDEO OF ME SOMEWHERE WITHIN 200 MILES OF FORKS:
I know, hang me — I am the only person who has read Twilight and who is actually within 200 miles of Forks and not going in that direction. So after discovering that I would be unable to dash across the gap between my airport and Forks, I decided to do the next best thing and explore the City of Forks website while browsing Youtube videos in lament of my predicament. I came to the conclusion: who needs Forks when you can have Spoons?
Anyhow, this chapter is very much a continuation of Chapter 8. Some of the writers out there, myself included, might have picked up on something that most non-writers wouldn't– this chapter gave me the instant feeling that Stephenie had 8 and 9 together at one point, and then split them up. If so, it was a very clever decision, since in each one I discovered something new, and it was almost impossible to keep from sliding straight from 8 to 9 because it stopped right in the middle of everything.
Bella's self-defense class is one I have yet to see. I was in martial arts for years when I was younger, up to black belt, and not once did our instructor teach us something useful like how to smash someone's nose straight into their brain.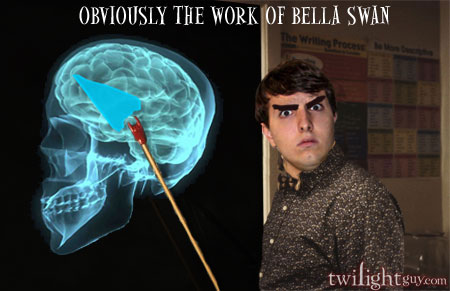 It would have definitely been more useful than the utterly worthless 'knife-hand' which was basically a cheap sideways karate chop which rendered nothing upon an attacker except a blimpful of laughs and giggles. Also nearly as useless was the 'butterfly kick', which as you can imagine was a spinning, flailing spectacle no one could make look awesome. It was really more like an intoxicated monkey kick.
[audio:https://twilightguy.com/wp-content/uploads/2008/05/bowtoyoursensei.mp3]
After reading this chapter, about three things I became absolutely positive. First, Edward is a vampire. Second, Bella is madly in love with him. And third, Bella better go back into those woods, because I'm dying to know what horrible creatures reside so close to home.
My post is shorter this week since I'm on the road (well, more of in the air…), but rest assured: chapter 10 is on the way!
——NOTES——
– Despite rumor, there will be no thehostguy.com . Also, as I go to the next book in the series, it will all stay here, and it will become A Guy's Attempt To Read The Twilight Saga.
– This has obviously gotten buried, as it is becoming a Very Frequently Asked Question, so I'll repost the note: if you want to read part of my book The Farfield Curse, all you have to do is email me and I'll send a few chapters as a preview. It is due out in late 2009.
– Again, I cannot friend people on Facebook I do not personally know, so I'm really sorry I keep deleting your requests. However, some great people have set up groups for me on there and you can join them. They are here and here. Friending me on Myspace is also a much better alternative.