Reading Twilight: Chapter 10 (Interrogations)
May 22nd, 2008 at 2:00 am by Kaleb Nation
The song for this chapter is Song In My Head by Sherwood

[audio:https://twilightguy.com/music/songinmyhead.mp3]
As I started on this chapter, I couldn't help but think back on all the memorable snacks I have enjoyed so far while reading, usually munching with one hand and turning the pages with the other to avoid greasy stains on its pages. So far, I have enjoyed popcorn for two of the chapters, some Tex-Mex chips-and-salsa for another, leftover macaroni a few weeks ago, and today: half of a pepperoni pizza.
My reasoning for doing two things at once is that I usually discover upon picking up the book that I haven't eaten in six or so hours and I had better do two things at once before I blasphemously nibble on the pages. Also, being starving, exhausted and up past midnight makes me feel more like the way true Twilighters end up after picking up the book: not even wanting to stop reading for such frivolous necessities required to keep oneself in the land of the living. So without further ado, my pizza-stained fingers flip through Chapter the Tenth!
Speaking of eating, I find it interesting the things I discovered in this chapter about Edward's own hunting habits. I recently discovered the meaning of the term 'vegetarian' as used in Twilight, and to see the way that Edward gets around that to keep himself alive is certainly one I hadn't expected. But of course, I'm wondering exactly what happens to him in the sunlight, and what would happen if he does drink human blood? I am catching something behind him being able to smell Bella from so far away and follow her scent, and even though I don't think it has been said yet, I am thinking that he is actually smelling the scent of her blood. Is they why he calls himself dangerous? I am thinking that it is becoming very hard for him to resist.
Being a writer, I can't help picking up on funny phrases and just laughing uproariously trying to imagine what they could mean. Any writer will know what part of this sentence caught me:
I couldn't argue, with the eyes or the motivation, and it was a moot point anyway.
What? Moot Point? I apologize to all the non-writers out there, but when I see that phrase, a great many things come to mind, including but not limited to:
Davy Crockett, in his favorite Moot Point pose: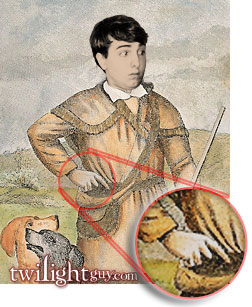 –
After our coach called the referee an asparagus, the opposing team was given one Moot Point: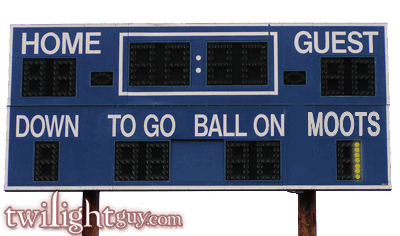 Sorry, I just can't help what goes through my crazy brain. If you want to know the actual definition of the term, I discovered it over here.
Anyhow, this chapter was full of great stuff and I am getting the feeling that it is lining up for something big. I also have a feeling that it will be in The Famous Chapter 13, which causes nearly everyone to swoon just by it's very mention. This also leads me to a question out of curiosity: what chapter is the best in Twilight? I want to see which one I should be looking forward to with greatest anticipation 😀 .
Next chapter coming soon!
Posted in Twilight