Reading Twilight: Chapter 11 (Complications)
May 29th, 2008 at 12:45 am by Kaleb Nation
The song for this chapter is Enemies by Ryan Cabrera

[audio:https://twilightguy.com/music/enemies.mp3]
I returned from Alaska on Monday only to find that I was locked out of my house. The apartment people had changed the blasted locks on me, and since it was Memorial Day, I had to sit outside for nearly 2 hours waiting for the maintenance guy to get on over there. This was only bitterly humorous, since it came immediately after The Lasagna Burglar got in and raided my freezer. I cry Injustice!: I pay the rent, but he has an easier time getting in my home.
If I wasn't out-of-my-mind exhausted, I might have thought to start on the next chapter of Twilight while waiting to be let in. But all thoughts were elsewhere (pondering a quick change of profession to get in my home) so it wasn't until today that I got to it. But finally on to chapter 11!
I would be partially terrified to be in the same room as Bella with a tennis racket. In fact, if I was Coach Clapp, I might rather prefer she be handed a paper plate taped to the end of a paint stick, in an effort to reduce the weight of the object if it became airborne when she goes flying through the air. After Bella leaves, I'm sure she won't be the only person who is 'lightheaded and wobbly'.
It didn't go smoothly. I somehow managed to hit myself in the head with my racket and clip Mike's shoulder on the same swing. Then, I clunked Michelle on the back of the head, providing a wonderful concussion, which in the same forward motion over-extended my arm, pulling a muscle, which caused me to swing backwards, providing a graceful set of bruises to Marvin. As I jerked forwards again so as to not fall backwards from the motion, I made a circular swing and knocked three other classmates unconscious, the power of this swoosh causing me to backpedal ferociously, knocking wildly into Harry, Jeremy, Megan, Fiona and Paula, knocking them all out cold. Centrifugal force then caused me to go flying again, slamming the end of the racket into George, Jamie, Tyler, Ashley, Christopher, Minnie, Todd, Shamika, Keisha, Zahra, Shonda, Sabrina, Krista, Daronda, Theresa, and Felicia, among others, before I finally landed at the feet of Coach Clapp.

Honest, officer. That's what happened."

The Forks Gazette reports
As for Rosalie's red convertible and all the guys gathered around it, I can vouch that the scene is quite realistic. Every day, there is a red Mustang in pristine, polished condition parked out in front of the apartment. It is like having a princess in Toadtown: almost every other vehicle in the lot is either scrap-metal, half painted, or belongs to the mail carrier. I am certain that whoever owns this car is sitting up in their apartment window with binoculars, grinning wickedly as they watch guys try to let their turning gazes of admiration go unnoticed.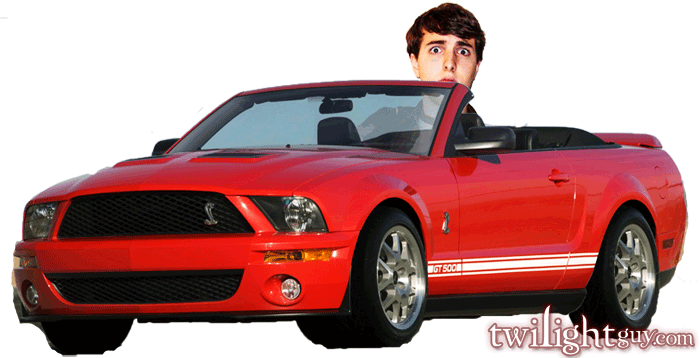 Stephenie also keeps referring to a specific, nameless band in these chapters, but I think it's pretty easy to guess which one she's thinking of (added 10:32 AM: forgot to mention: I think the band is Linkin Park). She was smart, though, not to say their name in the book. This lets us imagine almost any band we'd like in their place. I'm curious as to what band you people think would fit for something Bella and Edward would both love. As for me, I'd think they might also be a fan of Anberlin too.
On page 232, I saw the word 'twilight' for the first time, just before the chapter ended with one of the Blacks appearing and seeing Edward. I'm getting the feeling that they don't like each other very much, and I'm almost certain I'm going to be hearing more about this in the next few chapters.
——NOTES——
– My five hour college class was so interesting, it flew by and was over in a flash. Not at all what I was expecting. So it obviously isn't near as loathsome as I thought, and oddly enough my professor looks like a Mel Gibson double. Weird. But the class was awesome and the dread has left me.
– Due to being nearly 3 weeks behind on emails, I have added a FAQ page at the top that will answer some common questions. Sorry if it's taking me so long to get back! I'll be replying as soon as I can get to them.
– Our friend GJ sent me another email, filled with even more oinking. I am considering posting it. Does anybody want or not want to read more from him?
– Congrats to The Fantastic Twi-Hards youtube for getting listed on Stephenie's website! I know all too well how it feels to know that Stephenie actually saw something you made. Now, all I need is a link from her site too… though I guess her Myspace mention was golden enough for me 😀 .
Posted in Twilight
Tags: Bella, black, burglar, clapp, classmates, Edward, jacob, lasagna, ryan cabrera, swan, tennis racket