Reading Twilight: Chapter 12 (Balancing)
June 2nd, 2008 at 12:10 am by Kaleb Nation
The song for this chapter is Chasing Cars by Snow Patrol (suggested by Rebecca)

[audio:https://twilightguy.com/wp-content/uploads/2008/06/chasingcars.mp3]
In hitting Chapter 12, I have come to realize that I am halfway into reading Twilight! Plus, I'm very close to the Chapter That Started It All, which I'm looking forward to reading with great interest.
I loved the title of this chapter, because it is something which Bella needs to take lessons in, especially as she and Edward venture off on a hike. She has a knack for causing accidents in the safest of places, but I attribute it partly to her lack of balance.
Also, I have noted, there are quite a number of things which could be affecting Bella the Danger Magnet. For one, I'm curious about how regularly she uses cold medicine to get to sleep. Granted, I suffer from bouts of insomnia more likely worse than Bella (sometimes past 3AM) but the worst I do is take some Tylenol for a sore back after tossing in bed for hours. Warnings on cold medicine include such lines as 'this product affects your ability to operate motor vehicles' for a reason.
Also:
"I made my way to English in a daze"

"The rest of the morning passed in a blur"
Etc.
She's practically walking with a huge haze about her head, much like Eeyore's cloud but sunk lower so she can barely see. It appears to me like it's time for Bella to take another trip to the doctor 😀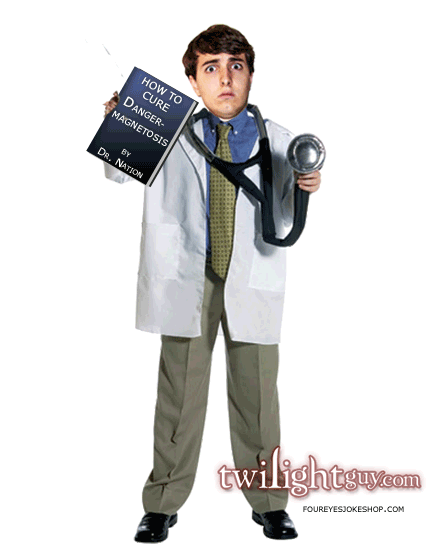 I can also sympathize with Bella's aversion to a five mile hike. Granted, hiking is not all that bad, but when you're going through raw forest with the hot sun, flies, bees, wasps, mosquitoes, and all sorts of terrible beasties coming at you, it can become quite a misery. I know this because before moving to the city, I lived in the country for years, and at the beginning our entire land was completely undeveloped. Now it somewhat resembles this: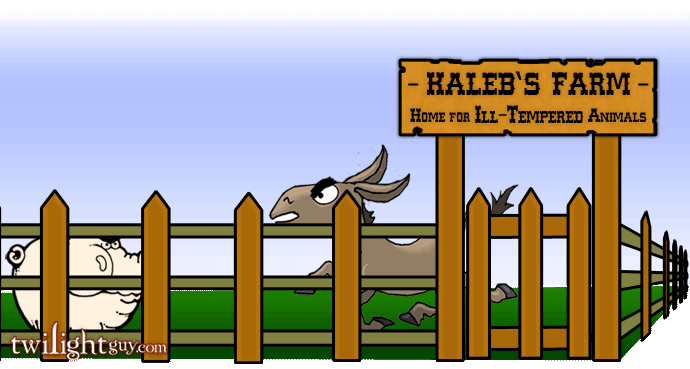 Bella, however, is lucky to not have a hoard of animals all over where they are going to hike. Because if she had a pair of pigs freeloading off the land anything like the demonic duo Siskel and Ebert from where I used to live, they would not be walking on the hike, but rather running for their lives. They're cute when they're little, but don't let the Youtube's fool you– pigs grow up, and massively. Pigs have a repulsive skill which enables them to hear you from afar. You had better be dashing at full speed before those little hooves start to shuffle behind you: because after all, the only reason a human would step foot nearby is to stuff their snouts with grub, and they're willing to knock you down to get at it. I'm sure you can just smell my distaste for pigs in this paragraph. Understandably: There. Are. No. Pigs. At. College.
Isabelle, however, is a different story. You talk bad about Izzy, and I'll turn you to bacon 😉
In this chapter, another thing I came to notice is Edward's constant interest in what Bella is thinking. This is very interesting, since she appears to be the only person whose thoughts he cannot read. It seems to bite at him that he can't enter her mind, when he so much wants to break in like he does with everyone else.
He makes up for it, though, by always asking her what she is thinking. This part of Edward is one that I've seen in previous chapters but I didn't notice until now. He has so many questions about Bella– he just wants to know everything about her, from her family history all the way to her favorite color. It's almost as if it's driving him mad not knowing it all at once.
I am but a day or two away from reading the Famous Chapter 13. Chapter 12 ends with Edward stepping into the sunlight…but I'm left hanging as to what happens next! Wish me luck at keeping from spoiling the next chapter until then.
——NOTES——
– For fun I made a quirky line of photos about what happened When I Met The Dragon, immediately after he starred in Dragons Discuss The Twilightguy video. The photos are on my Myspace.
– For the people who enjoy my music, I have gone back to record a new song (a score, not techno– but I have another techno track coming). I'll post it on my other site in a week or so. I finally got a keyboard 😀
– Somebody said I got a mention on NoMoreMarbles, and turns out it's true. In this video around 2:12 I get a mention. Thanks Bailey (if you read this)! And congratulations on the wedding 😀
– After I mentioned wanting to be on Stephenie's fansites list, I magically appeared on her site. Thanks Seth!
Posted in Twilight
Tags: animals, chapters, funny, guys, Stephenie Meyer, Twilight