What Happened With TwilightGuy.com
April 17th, 2008 at 3:37 pm by Kaleb Nation

Before I begin reading more of Twilight, I must tell you a story. The main character is me.
In writing on my website KalebNation.com, I realized this week that on the front of my own blog, I had 4 posts devoted to Stephenie Meyer, and only 2 for my own book. Obviously, Twilight has bitten my site, in more ways than the one you're thinking of. And yet through all this talk about Stephenie Meyer (who, as a writer, I can't help but idolize), I still had not read the book itself.
So I decided yesterday to start a new website. Wednesday morning, I bought twilightguy.com. This site would be my exploration into the world of Stephenie Meyer. Also (and note this especially) I didn't plan to tell people about the website for a week or two, so I could get my final exams out of the way; and perhaps some mental preparation for the crazy looks I'd get from every other guy I know.
However, Twilighters would not let that be.

For my readers of a Certain Page on kalebnation.com, I put up a tiny link to TwilightGuy.com, just to see if they would like the concept of it. What a laugh. Before I woke this morning, Twilightguy.com had exploded. I have received not hundreds, but THOUSANDS of visitors in less than 24 hours, without the slightest promoting or mentioning to anyone.
I come home from class this evening and my email inbox is full of Twilighters either wishing me well, wishing to know if I'm onto Chapter 2 yet, or wishing that their boyfriends would come to my site and then have the guts to read it. Myspaces, forums, blogs, Xangas: they spread the word about me reading Twilight in less than 7 hours (ahem: between the hours of midnight and 7 AM, when most humans sleep). Every time I click Refresh on my stats (about every minute or so), I have received another 50-80 visitors. People have started posting some of my little Twilight Guy buttons across their pages in support of my venture.
And thus, Kaleb Nation: your friend, your writer, your blogger, your failed chemical pyrotechnicist…is now The Twilight Guy. I welcome all you Twilighters to my website, and let it be known that you have my deepest thanks. Best to all who are accompanying me on this journey- now on to the book!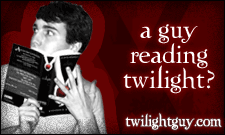 Posted in Uncategorized