Reading Twilight: Chapter 24 (An Impasse)
July 10th, 2008 at 12:06 am by Kaleb Nation
The song for this chapter is How Does It Feel by Avril Lavigne (suggested by Kelcey M)

 [audio:https://twilightguy.com/wp-content/uploads/2008/07/howdoesitfeel.mp3]
It feels very odd coming to the final chapter of Twilight, when it seems like it was just yesterday that I started on this book. I know that most of you are probably gagging and choking at the moment. Feels like only yesterday? says he. Sheesh. One more week of waiting and it'd be to the pit of lions with him for sure.
This happens to be the chapter in which all things are resolved, and the final pieces of the first part of the Twilight Saga are brought to a close. Bella, awakening in a hospital, finds herself alive: and not only that, she finds Edward is still at her side, as he has been since the moment he found her with James.
One of my emailers used this scene as an example of why she despises Edward: and I find it also as one of the leading reasons many guys do not understand Twilight. They say that Edward is solidly over-protective of Bella, to the point of obsession: staying by her side for days and nights at the hospital, among the many other times he has lurked about with his eye on her. Although some of the Edward fans will try to deny it, there is no getting around the fact that he seems to always be watching Bella, keeping her in sight in case something happens. Is this a bad or a good thing?
Again, as always, you must peel away the layers and look to the core of Edward's intentions. While this could certainly merit a checkup with a psychiatrist if Edward was a human, you have to remember that Edward is not a human. He is a vampire, and somehow things inside his head are different than other humans who match his (outward) age. Does it have something to do with the fact that he is so much older than the others, that he has matured enough so that selfishness doesn't taint his reasoning as badly? I see it that his intentions for Bella are only the best, and he has proven it throughout the book. He watches her because he has seen how much danger follows her.
Edward knows what Bella wants, and yet he is against changing her. His reason is because he cares enough about her that he does not want to enslave her to the same state as he is. However, for Bella to remain a human means that she will die. For her to die would mean that Edward would be left alone again without her. Is that what he wants? I'm sure we all know the answer. But even though he wishes that he could change her, and have her with him for eternity, and Bella wants it as well, Edward wants what is best for her more:
"…as long as it makes you happy…as long as it's what's best for you."
No matter what it takes he wants the best for Bella. In this chapter, Edward tries to tell Bella that he is leaving her: that he wants her to go to Florida with her mom and stay there, away from him. Of course, this is not what he wants. We've seen how much Bella means to him, so much that in the previous chapter he is willing to risk everything to save her. But in the end, it is what is best for Bella that is still his top priority.
You do have to remember, especially, that his lips were against her hand in the previous chapter. If there was ever a chance for Edward to think of himself for once, and allow Bella to turn into a vampire, he had it then. But instead, he chose to save Bella's life as a human. Because of this, I see exactly why those on Team Edward trust him so well, and why Edward is such a shining light for so many millions of Twilight readers around the world. It is easy to trust someone who loves unselfishly.
Along these lines, I've finally noticed how much Bella and Edward argue. I mean, they argue a lot. This immediately reminded me of my own grandparents. They argue all the time, about anything and everything under the sun. This month, it's been sixty-one years of marriage, and they still bicker like you wouldn't believe. It is hilarious, and they know it too. But any outside person might begin to ask, as with Bella and Edward: why on earth are you two still together?
The reason is simple: they are together because they simply cannot be apart. True love is binding, and unselfish, and holds through any of the arguing and fighting and bickering that comes along between two people who are meant to be together for the rest of their lives. Twilight is not simply one of those 'happily ever after' stories where the two ride off into the sunset. It is real, with love that is just as difficult and confusing as in life: but it is worth it, because it is true.
Still, I hover around listening to Bella and Edward bicker, like an eavesdropping doctor about to explode into shouts of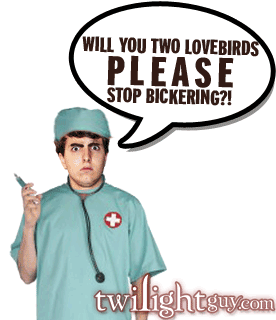 That said, I can only imagine the demise of James, at the hands of two angry vampires:
(Bella:) "What happened to James?"

"After I pulled him off of you, Emmett and Jasper took care of him."

[audio:https://twilightguy.com/wp-content/uploads/2008/07/uhoh.mp3]
Shiver.
I just loved how cleverly in-the-dark Bella's mom is. Crime in town? The dance studio burned to the ground? With a stolen car outside? Oh the loverly coincidences in this town (snicker, snicker).
Also, I found a bit of amusement in Edward's excuse to Bella's mom:
(Bella:) "Why did you tell her I'm here?"

"You fell down two flights of stairs and through a window." He paused. "Then, you collided into the back of an ice cream truck which upon impact sent canisters of cold cream spiraling into the street, one of which tripped you into falling out of the truck again and down another flight of stairs into a subway tunnel, where you collided with no fewer than three dozen people and a small poodle on your way down, finally coming to rest by knocking over three trash cans."

He shrugged. "Hey, it had to be believable. Two flights of stairs and a window just sounded contrived."
My post on the epilogue will be Saturday, with the results for the Twilight Song and my final thoughts on the book.
——NOTES——
– This week, there will be no Friday post, so that I can go seamlessly from the last chapter to the Epilogue. See you Saturday!
Posted in Twilight
Tags: Kaleb Nation, Stephenie Meyer, Twilight, TwilightGuy