Reading Twilight: The Epilogue
July 12th, 2008 at 12:04 am by Kaleb Nation
The Song for Twilight is
YOUR GUARDIAN ANGEL by THE RED JUMPSUIT APPARATUS
[audio:https://twilightguy.com/wp-content/uploads/2008/07/yourguardianangel.mp3]
And thus, the votes are in: nearly 10,000 over the span of two weeks. The votes were very, very close. The number 2 song was within 50 votes of the top. In order after the top song, the next four runners-up are:
2. Time Is Running Out by Muse
3. Lion by Rebecca St. James
4. Iris by Goo Goo Dolls
5. Hero/Heroine by Boys Like Girls
Back in April, the day I first bought this site, I went to sleep literally thinking that I was wasting my time, because nobody would ever read it, much less find my commentary on the books entertaining. Before I woke up the next morning, 4,000 people had already come to prove me wrong. It is hard to describe how great it feels seeing the wonderful reception the Twilight family has extended towards me.
Since April 16th, I have received 750,000 hits, uncountable emails, a mention on Stephenie's blog, interview and appearance requests, been named the #7 Twilight site in the world, and met countless new friends that I would never have known if not for this site. It is truly unbelievable how fast everything happened and how much everyone has supported me and my (painstakingly slow) read through Stephenie Meyer's amazing books. I cannot thank all the readers of this site enough for all you have done for me.
I will keep my final thoughts on the book short, so as not to sully the ending with my own commentary. My final review is below, and can also be found in my library later this evening:
I am a guy, and I read Twilight to discover the reason so many girls around the world have fallen in love with the books and a vampire named Edward Cullen. Now that I have finished the first part of the saga, I think I have uncovered some of it, though I have probably only scratched the surface of all that can be taken from this wonderful novel.

With Twilight, Stephenie Meyer has told a story of the changes that can happen to a person when they love someone. At the beginning of the novel, I saw Bella as a girl who abhorred everything about Forks. But by the end, it is her home– and with her is a vampire who cares for her more than he cares for himself.

The character of Edward Cullen was one of the mysteries I originally set out to solve: this person that millions of girls worldwide have fallen in love with, just as Bella did inside of the novel. Like many guys, hearing from girls about how wonderful Edward is made me a bit hesitant to want to read an entire book that seemed, from the outside, as simply a checklist of the things that make him perfect and real guys dismally inadequate. But after I actually opened the book and studied Edward a little closer, I had to ask a few questions: Is Edward idolized so much only because he is a perfectly formed vampire? Would he be thought of so highly if he was still so attractive, and yet selfish and uncaring?

Because of this, I don't believe girls love Edward only because he is built like a model and is a vampire. I think that the inside counts just as much as his outside appearance. There are many things that us less-than-Hellenisticly-perfect guys can take from the book by watching Edward: the respect he shows towards women, the selflessness of his actions, the level of polite elegance he maintains, the maturity of his judgment, among many others. These are all things that real guys can actually learn from him– and they don't have to be vampires to do it, either.

The story in Twilight is hopeful and bittersweet in the same breath, which is as close to real life as a description can come. It is a story of love, but most of all it is a story of how true love can break down the strongest of barriers: even barriers that can stand between a human and a vampire.
I'm hoping that now as I move through the rest of the series all of you will continue to read my blogs, and that I can continue to make you laugh with my attempts at wit. I have some very big plans for interesting stuff coming up, and I hope you can stick around to see them unfold. Now…on to New Moon!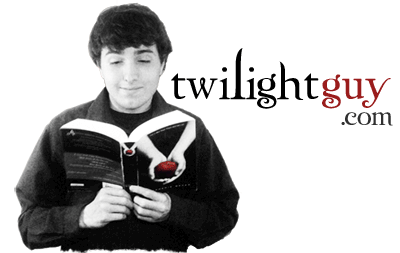 (Added 11:59 AM): NOTE: I WILL BE STAYING AT THIS SITE FOR THE REST OF THE TWILIGHT SAGA. There will be no move to newmoonguy.com or anything. However, look forward to some design changes 😀


Posted in Twilight
Tags: Kaleb Nation, Stephenie Meyer, Twilight, TwilightGuy