TwilightLive
October 22nd, 2008 at 12:02 am by Kaleb Nation
For those of you who haven't heard the news, Jackson Rathbone, Michael Welch and Peter Facinelli have been added to the list of guests appearing at TwilightLive on November 16! As stated on the MTV movies blog, the TwilightLive event is set up to be a great time in LA before the movie premiere, and if you are in the area you should definitely stop by!
I will be involved in the event as a quick panelist with Bailey (nomoremarbles), so if you want to come see us before the premiere, as well as loads of great guests from the other Twilight fansites, head on over and RSVP for the event (more info here).
As usual, all events I will be at are on my events calendar.
– –
Also, on October 25, I will be doing an extra-special live BlogTV IN THE SAME ROOM with Bailey, from a yet-to-be-disclosed location (erm, people might already know where it is, but I don't know if I'm supposed to say or not). As usual, we will cause you to scream with laughter so loudly, your ears will fall off and your ribs beg for mercy. I have spoken with Dragoat's agent, but have yet to receive confirmation of his appearance.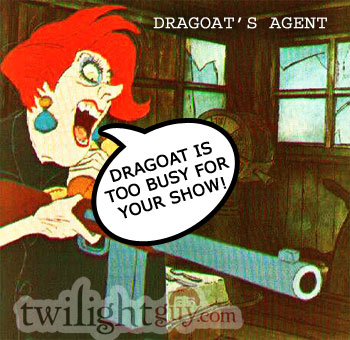 But then again, if you're not watching us, how will you know? So cancel all plans for Saturday evening (time TBA) and come watch.
Posted in Events, Twilight Movie
Tags: BlogTV, Dragoat