Reading Eclipse: Chapter 16 (Epoch)
January 9th, 2009 at 12:02 am by Kaleb Nation
The song for this chapter is Invasion by Eisley
[audio:https://twilightguy.com/wp-content/uploads/2009/01/invasion.mp3]
I found it interesting how I'm reading about Bella graduating, a mere week before I will be returning to school. Unlike last semester, this time I've transferred to an English degree, which means all my classes are of great interest (Literary Studies, Psychology, etc). No more of that Calculus nonsense (and mayhaps more time to get work done finish Eclipse)!
Before I began, I decided to look up the word epoch, which is the title of this chapter. The definition is as follows:
NOUN: 1a. A particular period of history, especially one considered remarkable or noteworthy.

b. A notable event that marks the beginning of such a period.
If you think about it, there are a lot of things attached to Bella's graduation ceremony. Not only does it mark the ending of school, where she first met Edward, but it also means that she is getting much closer to becoming a vampire. And what then? It seems to me that after Bella's graduation, so many things will happen, in ways that are far different than for most people. Which of these is the reason for the title? Is it pointing to the remarkable and noteworthy time of Bella being a human, or is this simply the beginning of a new Bella: where everything previous was simply there to prepare her as a vampire?
I think that Bella would have a far easier time choosing clothing if her closet was filled with various items of plaid. Anytime I wish to go somewhere, I simply put on a pair of jeans, choose a plaid shirt, and go. If Bella wants to mix things up a bit, she can close her eyes, spin around a few times, and then wear the first plaid garment her hand touches. None of this "I have nothing to wear" nonsense. With plaid, there is always something to wear.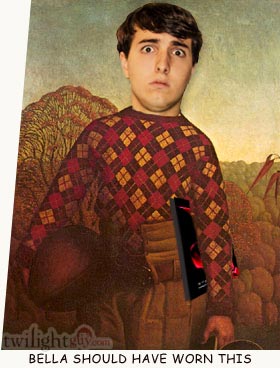 (ADDED: there seems to be a debate in the comments as to if this is plaid or argyle. WOT?! Good thing I'm not a fashion designer, but what's the difference?! All I see are lines and colors… 😀  )
But, I understand. When your clothes are being stolen by a newborn vampire who most likely intends other things than playing dress-up-like-Bella-for-a-day, I can see how she can get a bit nervous.
If I remember my graduation correctly, it was dominated by emotional moments and seeing long-lost relatives and friends, none of which happened to be vampires. Unlike at Bella's graduation, my parents gave speeches about me, which was quite touching and yet slightly uncomfortable, especially recounting certain events I might rather forget (like the time my mother cut my hair a bit too short and I was forced to look like Dwight Schrute for weeks).
I keep wondering why these vampires are after Bella. Are they planning to use her as a distraction, to draw the Cullens out? Somehow, whoever-it-is knows exactly how to get around Alice's visions and get into Bella's house, and creep about through Seattle undeterred. What makes it worse is that this vampire didn't come to kill Bella, but instead is passing on the duties to somebody else: probably more than a few vampires, who using their newborn powers might actually stand a chance in getting to Bella.
I found it nice of Jacob to show up for Bella's graduation, especially with what happened the last time he saw her. It was probably a good idea for him to disappear early, too 😀
——NOTES——
– I'll have info on the Twilight Youtube Contest Of Awesome II soon.
– Twilight Series Theories is putting together a project for Billy Burke! Click here for more info on how you can help!
– By the way, I love the DVD art for the Twilight movie!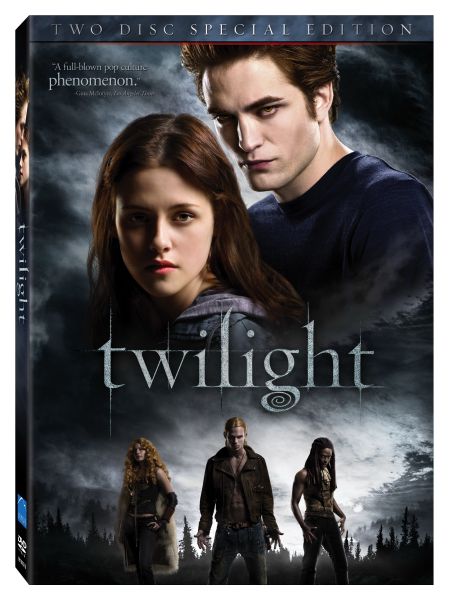 We deal in all kind of certification exams including JN0-400 and 640-816. Check out our latest dump collection to pass your ccsp exam on time.
Posted in Eclipse
Tags: Bella Swan, Edward Cullen, Jacob Black