Reading Eclipse: Chapter 15 (Wager)
January 5th, 2009 at 12:05 am by Kaleb Nation
The song for this chapter is Hysteria by Muse
[audio:https://twilightguy.com/wp-content/uploads/2009/01/hysteria.mp3]
Finally — my glorious two-week break is complete, which means back to work, back to writing, and back to the next chapter in Eclipse! I will admit my break was quite a joyful one (besides the being-sick half the time part) but it's always a welcome time to get back to a schedule and start again with the new year. On to Chapter the 15th!
In the previous chapter, Jacob just informed Bella of the fact that he is in love with her, which did not cause much of a reaction in me besides a hiccup (I attribute this more to eating my snack too fast instead of surprise). The fact is that I knew, as well as Bella, and everyone who has read this far, that Jacob is madly in love with her, and would greatly welcome a runaway train flattening every shiny silver Volvo in the surrounding 500 miles of Forks.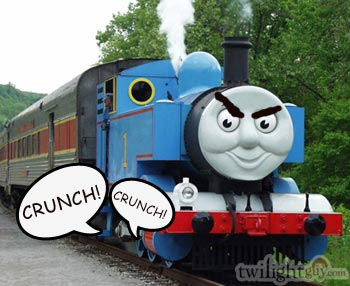 But Jacob's proclamations of love aside, Bella doesn't buy into it quite so quickly, though she doesn't outright turn him down either. Bella is a hard person for me to understand. I figure she is doing one of three things:
1. She loves Edward but still thinks she is not good enough for him; thus, not completely getting rid of Jacob leaves someone around to go to if Edward leaves again, OR

2. She loves Edward but can't stand to hurt Jacob's feelings, even though her relationship with him doesn't, ahem, sparkle as much as her relationship with Edward; thus she wants to say she doesn't love him, but can't bring herself to do it for fear of crushing him, OR

3. All of the above.
I am personally going for option 3. Considering the fact that no matter what happens, someone will be hurt, I find it slightly disappointing that Bella would continue to lead Jacob on when she knows she won't love him like Edward. But, she is human, and sometimes humans have a hard time making decisions, especially one's involving love — whilst the possibility of something actually blooming between her and Jacob looms over her head every time she thinks of cutting ties with him altogether. The key line here is:
Bella to Jacob: "But I don't want you around for the same reason that you want me around."

Decoded means: "I want to be Just Friends."
But you can't have it both ways. It's like getting a pet chinchilla (Jacob), feeding it and letting it nibble the ends of your fingers, and then each day at 2 o'clock tossing it out into the foggy streets of London so you can go play with your real pet, a disapproving rabbit (Edward). Eventually, the rabbit will be jealous of the hours you spend with the chinchilla; and the chinchilla will feel as if you're just using it, and join Her Majesty's Navy on a trip far away in order to forget you. There can never be two number 1's in a person's life.
I did notice one thing that made me feel better about Bella, and that is the fact that she is beginning to realize what she is doing to poor Jacob:
If I wasn't mean — and greedy, too — I would tell him I didn't want to be friends and walk away. It was wrong to try to keep my friend when that would hurt him.
Which is true. Bella is in a very hard position, because either leaving or staying will both end up hurting Jacob. Oh, what a predicament.
I find it endlessly funny how Charlie is so blatantly Team Jacob. It's as if Jacob can do anything he wants because Charlie wants him and Bella together so much:
Charlie: "Why did she hit you?"

"Because I kissed her," Jacob said, unashamed.

"Good for you kid," Charlie congratulated.

"So, can I have $500?" Jacob went on.

"Sure," said Charlie, already pulling it out.

"And the deed to this house."

"Right here." Charlie already had it signed.

"I'll be taking your patrol car on the way out,"

"Sure thing," Charlie chuckled. "Here, take my left arm and half my furniture while you're here."
As I read this chapter, I also wondered what exactly Edward was going to do when he showed up at the house. After all, I know that I would not be pleased in the slightest to know that the guy my girlfriend was hanging out with ultimately led to her breaking her hand. Especially when said hand was broken trying to whack some sense into his head because he tried to force a kiss in. No, I would not be happy at all.
which, as I found out a few pages later, is what nearly happened. When Edward accelerates his Volvo even more than its already-insane speed, you know he is not pleased.
Question for the comments: if Edward and Jacob did get in a fight, who do you think would win? Remember, they're both fighting for Bella, so it would be worse than usual. Or, do you think they would both end up dying in the process?
——NOTES——
– Details on the epic Twilight Youtube Contest Of Awesome II are coming — just as soon as I get the Epic Cool Things I'm Giving Away in the mail 😀
– Follow me on Twitter! I've started updating it lots more with what I'm doing, so if you follow me you'll know about contests, BlogTV's and posts before everyone else. Also, you must have Twitter if you want to enter any of my live BlogTV contests, so it's a good thing to have anyway.

Posted in Eclipse