Reading Breaking Dawn: Chapter 35 (Deadline) and Chapter 36 (Bloodlust)
August 28th, 2009 at 12:15 am by Kaleb Nation
The song for this chapter is My Heartstrings Come Undone by Demon Hunter

[audio:https://twilightguy.com/wp-content/uploads/2009/08/heartstrings.mp3]
If you follow my other sites then you probably know by now that I recently purchase my first car (my admiration of which has been of some concern to my readers). When I went to look at cars, there were three simple requirements:
1. Shiny

2. Silver

3. Drives
"ZOMGRSHABIBBLE!" I hear voices roar. "DID YOU GET A VOLVO?!" No my friends. I did not get a Volvo. I am not Edward Cullen. If I was to get a shiny silver Volvo, I fear that every time I climb in, I would suddenly feel transformed into Mr. Cullen, vampire extraordinaire, and get the sudden urge to go speeding around corners and roaring down alleyways, which would not at all be appreciated by the local police.
When Bella last took Edward's shiny silver Volvo into the rough side of town, I had this strange wish that someone will actually TRY to take the car from her. It would be nice to see them trying to drive off, and her simply grabbing the back of the car and stopping it in its tracks, whilst the bewildered criminal continues to push on the gas. Unfortunately she goes straight to the posh offices of Mr. J Jenks. No fun there. Booo. Way to ruin my fun Mr. Businessman sir.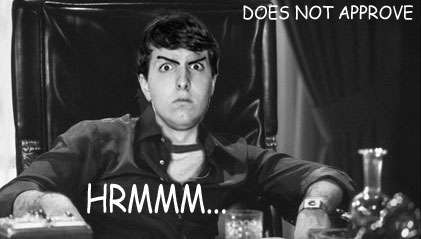 It is very saddening to see the state that Bella and Edward are left in. Would they cry, if they were human? I can't imagine the pain that they must be going through, knowing with almost sure certainty that they will be dying soon (or, the vampire equivalent of dying). I wonder greatly if it makes the pain easier knowing that they will at least die together, and not have to be apart for long, if they believe in some type of afterlife. It seems so hard to think of losing someone you love like that, especially when they've only had each other for so little time.
It makes me wonder also what Bella or Edward would do if one of them died, and the other lived. Would the world still be bearable for Edward, knowing that Bella, his true love, was really, truly gone forever, and he had no chance to ever get her back? I'm not sure anymore what Edward's beliefs are of an afterlife, but it seems that if he doesn't at least believe in some way for them to reunite, he might not feel life is worth living without her. When Bella is his whole world, and every bit of happiness in his life comes from her, then nothing will ever truly make him happy again. In a world with no joy, how could he truly go on?
When I think about this, suddenly the war and the werewolf feuding and every other problem surrounding Bella and Edward fades away again, and I'm back to where I started when it was just the two of them and their love. Would Bella and Edward be truly happy if they could simply go far away, on a deserted island with their daughter, and no one else who could ever hurt them, and no one could ever threaten to destroy them again?
Even as humans, it makes me wonder deeply about how we love someone — and if perhaps we can feel the type of love that Edward and Bella seem to feel for each other, that completely consumes every part of their identity. Is it wrong to love someone that much, where you value them so much above yourself and anyone else in the world that you're willing to die together rather than be apart? Is that obsession, or is it love in its deepest form? I don't really see where Bella is so afraid of death, actually. Every time she mentions it, she seems far more afraid of the results of death: the fact that somehow, it might cut her off from the person she loves.
The Volturi appear somewhat like a marching group of executioners in my mind, like a small army that has come to massacre the Cullens and start things over cleanly. It's majestic in a foreboding way, how cool and organized they are. It's almost as if in their minds, they believe they've already won. Perhaps this overconfidence will be their weakness if the fighting starts. It is also quite obviously a tense situation when the Volturi show up, and quite a confusing one as well. It appears at first that they are going to take the Cullens out without listening, but then Aro suddenly doesn't seem so sure about it when he sees Renesmee in front of him.
There is some magic in Renesmee's ability to change people. I don't really understand it completely, but just her presence seems to be able to melt even the coldest of hearts: even these Volturi who seem so set against her and her family, and so set upon killing them all. Is this some sort of power of charisma that she has inherited, some abnormality that comes with being half-vampire and half-human? Aro has journeyed a long way to kill them all, and a few simple words from the child seem to hold him at bay, even to the surprise of the other Volturi. Now, it's only a question as to if it will really be enough to save all their lives, or if Aro decides to be on the safe side and kill them all.
——NOTES——
– no notes!
Posted in Breaking Dawn