Reading Breaking Dawn: Chapter 33 (Forgery) and Chapter 34 (Declared)
August 26th, 2009 at 12:05 am by Kaleb Nation
The song for this chapter is The Christmas Song by Owl City
[audio:https://twilightguy.com/wp-content/uploads/2009/08/christmassong.mp3]
In keeping with my goal of finishing Breaking Dawn before my California move on August 31, I've really got to step up my reading! I write this post after downing another condensed bottle of Red Bull's more potent ingredients (yes, they do make condensed versions of Red Bull, and it tastes like liquid bubblegum…BUT IT IS WORTH IT BECAUSE IT IS HELPING ME STAY AWAKE) and after packing up the last of my house boxes. One such box is labeled "Random Things" which contains items including but not limited to:
– A bottle of chewable zinc throat lozenges,

– A 12+ foot long receipt from the library years ago, listing over 100 books we carted out one week,

– Some random silverware in a bag,

– Dragoat
I emptied my bookshelves already, into their own box. Now, the only book left is Breaking Dawn, as I am obviously in need of it to write my posts! Onwards to Chapters 33 and 34!
Charlie must be the most disinterested and non-curious person in the world not to wonder what the heck is going on here. Honestly, if he's caught on in the slightest that there's some strange attraction between Jacob and Renesmee, his papa bear klaxons should be going off big time. He sure is trusting of his daughter and her new husband to just let all these strange things slide, especially being a police officer and all.
Stefen and Vladimir are quite curious specimens in my opinion. They sound a little bit nutty actually. I mean, according to them, they basically sat in their castle for a 'very long time' (a long time for vampires, I assume, is at least a century or two), pondering the mysteries of the universe until the Volturi destroyed their fortress.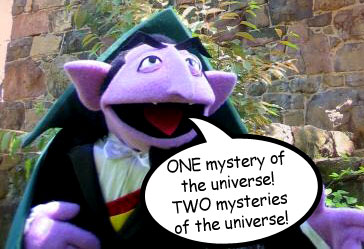 I can just imagine little Renesmee laughing uproariously when they tell her they're going to gouge the Volturi's eyes from their sockets. I'm sure it is a very amusing image, now that I picture them as The Count's clones.
I can't help but having this strange feeling of adventure when Bella journeys into the more unkempt parts of the city. It's one of those places that I feel we've been kept from for all the books so far, and reminds me instantly of that creepy alley back in Twilight, when Edward had to come to Bella's rescue from the creeps. Is this some sort of underground vampire Mafia that Alice has sent Bella to ask help from, to get fake ID's to help them move about freely? Obviously, Mr. J Jenks doesn't usually deal with the most respectable of people.
"At this point, I was ready for almost anything — some kind of James Bond villain's high-tech lair seemed appropriate."
Bella is obviously thinking a lot like me by now. And the Jacob Wolfe code name is simply epic.
I think that the Christmas with the Cullens and everyone else is actually one of the more tender moments in this book. I can't imagine what it would be like, knowing that you might possibly die within the next few months, and yet still go on celebrating the holiday as best you can with your family and friends.
"Did we play our parts well enough? Would a stranger have thought us a happy circle of friends, enjoying the holiday with casual cheer?" pg. 653
Is Christmas the calm before the storm that is coming to wipe them all away? I would like to think that Jacob and Renesmee won't be celebrating it alone next year. I think the holiday is somewhat bittersweet for all of them, because nobody really knows what is going to happen.
——NOTES——
– I fly out for California tomorrow! Not sure how much internet access I will have but I'll be on Twitter with any updates from the trip!
Posted in Breaking Dawn