Reading Breaking Dawn: Chapter 31 (Talented) and Chapter 32 (Company)
August 25th, 2009 at 9:09 am by Kaleb Nation
The song for this chapter is Everybody's Fool by Evanescence (suggested by Tony)
ADDED: after nearly two weeks of being down I think the site is FINALLY working! Luckily, I was able to restore this post. Because I am moving in 2 days, my next post might take a few days to get up. –Kaleb
As seems to happen every time I fly out of town, my websites have been down for the past week. PRAY TELL, you ask, HOW DOES YOUR SITE GO DOWN SO OFTEN? This is a questions I cannot fully answer, because it is beyond me how such a simple task of keeping a website UP and AVAILABLE is so hard to accomplish for professional web hosting companies. Thankfully,the hosting company was able to work with me to get most of the files back, and I managed to keep a backup of all my main posts, though some of the comments are lost. So I shall suffice it to say that I'm BACK and HOORAY for that at least!
Tanya and her company of pals seems like a good sort of people, which is exactly what the Cullens really need right about now. It was a little surprising how they so quickly threw aside their inhibitions with working with werewolves because of Renesmee, though. It seems suddenly that the little half-vampire baby has become the center of everyone's world: she can just say something, and everyone believes her. It's certainly a gift. She's literally just turned mortal enemies into somewhat-allies. Not even hundreds of years could do that. It makes me wonder a bit at how these other vampires are acting. Is there a longing within them to have children at some point in their long lives, so that when they see that Renesmee exists, they are simply enthralled by her?
"She is so special, that little one," Tanya mused. "Hard to resist."
When they first met her, they seemed to want to kill her right there. Now I'm just waiting for the real fight to break out on who gets to hold her.
I'm really loving Eleazar's discovery about Bella's previously-hidden vampire powers. A shield? That sounds like it's exactly what they'll be needing very soon. If Bella actually has the powers to act as a shield against other powers, she can protect Edward while he fights, or even give the Volturi enough of a distraction to make them listen to Renesmee. I think Renesmee puts it best:
"Momma, you're special."
I apologize to anyone who thinks that Carmen is perhaps one of the best vampires in the novel, but every time I see her name I can only think of the only other Carmen I've ever heard of, and suddenly Carmen the Vampire becomes: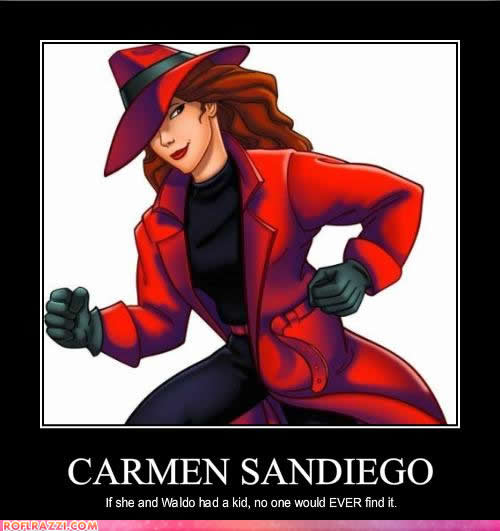 So as I'm reading all of these scenes with Carmen, I imagine she is wearing a floor-length, red trench coat with a hat, and is swinging about the room using a rope attached to a helicopter.
There is quite an interesting assortment of house guests arriving at Cullen's house nowadays. Can you really fit more vampires into a house at the same time? The smell has got to be choking the life out of the werewolves by now. Woe be to any creature still pumping blood who happens to show up at their door around dinnertime.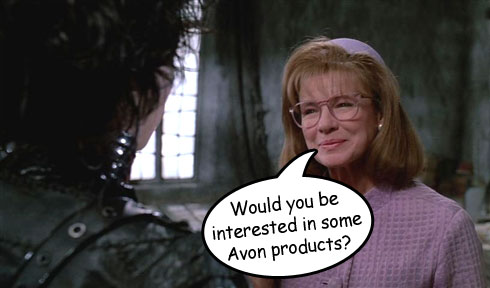 I'm getting a bit dizzy from all the new vampires and their corresponding powers. They've got people coming in from all over the world to this little house. Amazons, Irish, Egyptians… you name it, they're making their way to the Cullen's home. If anything it will be a wonderful multicultural experience for little Renesmee (that is, of course, if all of them don't get slaughtered by the Volturi, in which case this would turn out to be rather nightmarish).
Question For The Comments: Out of ALL the vampires in this chapter, whose powers do you think you would want the MOST in a big vampire battle?
–NOTES–
– Because of the Great Server Failure this month, the comments are acting up. But hopefully things will get back to normal (somehow!).
Posted in Breaking Dawn