Stephenie Meyer Vs. Trashy Articles By Grown Men
January 12th, 2010 at 11:02 am by Kaleb Nation

There was an article up on The Awful Truth that I had speared on Twitter a few days ago, because I'm beginning to get annoyed at the constant inclusion of those three same words in every article about Stephenie Meyer. Ted Casablanca's blog for E! Online included these little gems of journalistic genius:
Jeez, is it actually harder for a devout Mormon to whore out her creative baby than, say, a reported Protestant like J.K. Rowling, who certainly had no difficulties milking the Harry Potter flicks for all they were worth?

Oh, and Steph, just some more food for thought: If you put the kibosh on an extra Twilight film, Twi-hards are going to have your rich little booty for din-din! Trust us, you'll be skinned alive, diced, fried and then flambéed alive.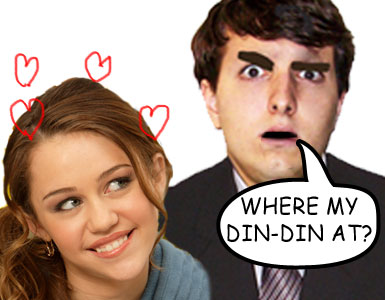 Did you say something? Sorry, couldn't hear you over the, like omigawd, Hannah Montana music pounding in the background. It's a shame it also took a co-writer to produce those two abysmal paragraphs, not to mention their many relatives in the rest of the article.
For one thing, I don't think the fans are going to hate Stephenie just because she doesn't split the movie into two films. It would be one issue if she wanted them to combine the last two books into one, but as the final book is only ONE book, Twilighters possessing any maturity greater than that of a five year old can hardly expect to DESERVE two movies of it. So I don't know where he's getting the idea that the fans are gonna have Stephenie 'skinned alive, diced, fried, and then flambéed alive'.
Smeyer, thankfully, posted a note on her website this morning to dispel these rumors:
Just a quick note on the subject of the Breaking Dawn film: there is no drama over whether the book should be one movie or two. My personal feeling is that it would be very difficult to cram the whole story into one movie (as I've said in many interviews previous to this), but if a great way of doing that surfaces, I'm all for it. Two or one, whichever way fits the story best is fine by me, and everyone I've spoken with at Summit seems to feel the same way. We're all excited to move forward on this, and we are slowly and surely getting there. I know people are anxious for news, and so sometimes gossip get fabricated to stir things up, but there's no basis to this particular story.

Steph
I think The Awful Truth is in need of a new 'Deep Twi' insider source who can actually dig up facts other than those including the words "Mormon", "Housewife" and 'din-din".
Posted in Breaking Dawn Movie, Stephenie Meyer