Lady Gaga Meets Edward Cullen in the HILLYWOOD SHOW Eclipse Parody
November 13th, 2010 at 12:59 pm by Kaleb Nation
I don't have a short attention span. I have no attention span.
I go to Youtube for videos that are 3 minutes or less. I want to see explosions, quick vlogs, ranty people with Australian accents, and at least two flying cats. That's why when I pulled up the latest parody from The Hillywood Show, my first reaction was to reach for my bag of poison-covered nails and prepare to swallow one for each of its thirteen minutes.
But having greatly enjoyed the group's previous videos and performances I choked back my inhibitions and resolved to watch at least the beginning, if only because Drew from the group had once paid for my dinner after a convention (at which, despite the warnings of the waiter, I asked for the spicy Chicken Tikka Massala, suffering for this immediately and three hours after). What followed were thirteen minutes of cinematographic bliss.
This video is unlike any other parody you've seen, Twilight or otherwise. There's an old argument in this Twilight fandom: is this even a parody? Is it a music video? Is it both? To me it's neither. It's a flashy, musically remixed, pop-culture referencing, Lady-Gaga-Meets-Edward-Cullen video casserole.
I hear you ask: "With such a combination of pale sparkliness and wild wigwork, how can our earth bear its weight and not spin out of orbit?". I don't know how to answer that question, and now I think you are slightly weird. But take all that and throw in some dance moves, and you've got The Hillywood Show Eclipse Parody. In a time where this fandom has been overrun with thousands upon thousands of fan-made productions, something fresh like this is a rare find. It was so good, I was even able to overlook all the male shirtlessness.
If you haven't heard of The Hillywood Show, then you likely haven't been keeping up with the Twilight fandom very much. Hillywood, made up of sisters Hilly and Hannah Hindi and a circle of talented costars, are well known for their Twilight Saga parodies / music videos, nabbing over 4 million views for their Twilight Parody and more than half of that for their New Moon Parody. They've toured in character for Creation Entertainment, appearing at Twi-Tours and Official Twilight Conventions all over the country.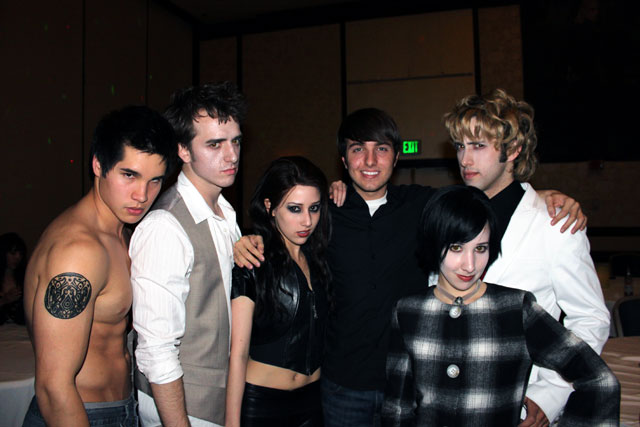 I've been watching The Hillywood Show since their first Twilight parody video years ago, and they continue to impress me with each new project. Their Eclipse Parody was just another great video in a long line of great videos, and it's certainly one you should take the time to watch. Even if there are no flying cats.
Watch it above and see more of their videos on Youtube (including many other non-Twilight parodies!).
Posted in Eclipse Movie, Videos
Tags: Hillywood Show