TwilightGuys Report: Dad Goes From Clancy To Meyer
May 3rd, 2008 at 4:30 am by Kaleb Nation
What better movie to watch after the final college exam than School of Rock?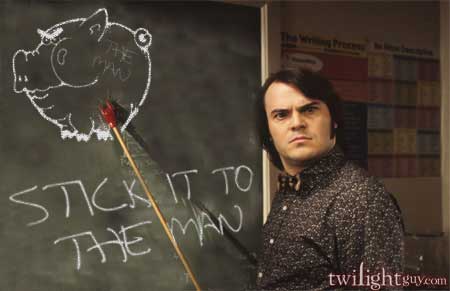 To all who left me their best wishes, thank you and they must have worked because I was able to speed through my math exam with a narrow 10 minutes to spare. Freedom finally for a few weeks! And getting some replies out to all the great emails.
But without further ado: a TwilightGuy reports:


TWILIGHTDAD: FROM CLANCY TO MEYER
"I got into the Twilight saga as the father of a 10 year old who is just crazy about the books (along with nearly all her classmates). I asked her if there were any military aircraft in the book ("no"), any missiles or guns of any kind ("no"), tanks, submarines, aliens? ("no","no","no"). So what's an ex-Tom Clancy aficionado to do? I did try and read the first page, after a lot of insistence from the Little One, and the next, and so on, until I realized I couldn't put it down, and I've now read all three and can't wait for the rest. My daughter and I now have serious Twilight discussions going on, and exchange the latest news and search YouTube together. I'm pretty sure that I'm the only Twilight dad out there, so maybe I shouldn't even be writing this! I'm still looking for the bite mark on me…"
Submitted by Mark M

A brand-new, official blue Danger Magnet t-shirt from Twilightteez to Mark! Thanks for the story!
Posted in TwilightGuys Report