Thanks To You
May 4th, 2008 at 12:01 pm by Kaleb Nation
Usually there is no post on Sunday, but I woke up this morning to be greeted with some things which deserve my largest amounts of thanks.
Remember that barely 2 weeks ago, I was pretty much an unknown, teenage writer who sometimes got up to 10 comments on his blog. I didn't think life could get better after signing my book deal.
But over the past two weeks, an enormous network of people have come together and rallied behind me like nothing I have seen before. Previously, if you were to look at my other blog, you might pick up on strands of confusion as I tried to understand Twilighters I knew. I just didn't get it until I dove in.
What I found was a huge, worldwide family. I spent this morning searching the internet for mentions of my name and The Twilight Guy. To my surprise, I discovered at least fifty places where I am being talked about at length, more than that of people showing my support buttons. On some sites, people start talking bad about me, and every time at least 5 Twilighters come to my defense and throw the flames right back. I have over 200 new friends in 2 weeks on my Myspace. Stephenie has started a phenomenon like nothing I've seen before. This doesn't just happen with some cheap imitation novel.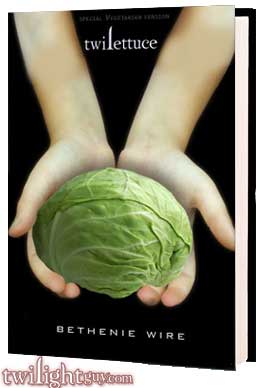 Example of Cheap Imitation
Something else I discovered this weekend: multiple TwilightGuy support groups on Facebook! This is something mind blowing to me and that I can't thank the founders enough for. Some of the ones I found were: Bella Should Drive A Fire Truck: Twilight Guy Appreciation and Kaleb's Nation. Show them some love for making my day!
Certain key players I need to thank are the Twilight Lexicon, BellaAndEdward.com, HisGoldenEyes.com , Twilighters.org, TwilightTopSites.com and TheMovie-Fanatic.com for always mentioning anytime something happens. Also, Stephenie Meyer, who took the time between MTV News and being in TIME's 100 Most Influential People to officially open the gates.
There is something important we must do on May 6th, and that is buy The Host. We absolutely have to get Stephenie to debut at number 1. But the way these lists work is by weeks: to get her up high, we have to buy the book on May 6th. The impact of all the fans at once will propel her to the top, and then people will notice it, buy it themselves, and keep it perpetually on the list. Let's get Stephenie to Number 1!
—–NOTES—–
– Just so you know the lineup for this week, I'll be reading a few more chapters, replying to plenty of emails and writing my article for tMF.
– There are some people posing as me on the internet. You will know if it's me because all my public profiles are linked at the bottom of this page. If it doesn't come from one of those, chances are it's not me!
– Thanks for shooting my Youtube profile up to over 100 subscribers this week! I promise another video soon. Also thanks to everyone friending me on Myspace!
– There is an online petition to get Stephenie Meyer and Catherine Hardwicke on Oprah. It just takes a minute to sign! Head over here to add your name (I did and I'm number 598!).
Posted in Stephenie Meyer, Uncategorized