Go Buy The Host
May 6th, 2008 at 11:41 am by Kaleb Nation
This is the week, people! We have to get Stephenie up to number 1 by everyone getting the book this week! Go out and get The Host!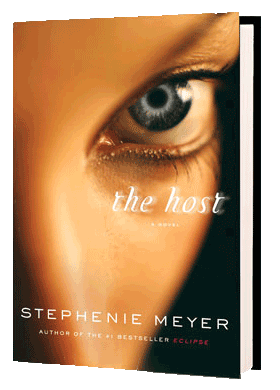 If you have The Host already, report in on the comment box! I want to know what you think if it (and if you already finished it!). Also, anyone camp out for it? Who got there the earliest? And tell me the First and Last word (just for fun 😉 )
Also, so you know, Stephenie's interview on The Glenn Beck Show has been moved to Thursday, May 8.
I will be reading another chapter of Twilight very soon! I just have to drag my flu-ridden self out of bed for a few minutes… 😀 . I'll post up the next chapter early tomorrow!
———ADDED ABYSMALLY EARLY MAY 7————
Stephenie at the Mall Of America. This Youtube Channel has a bunch of videos from the huge event.
Posted in Stephenie Meyer, The Host