Stephenie Is Number 1 (Again)
May 17th, 2008 at 10:49 am by Kaleb Nation
No surprises there– we all knew it would happen.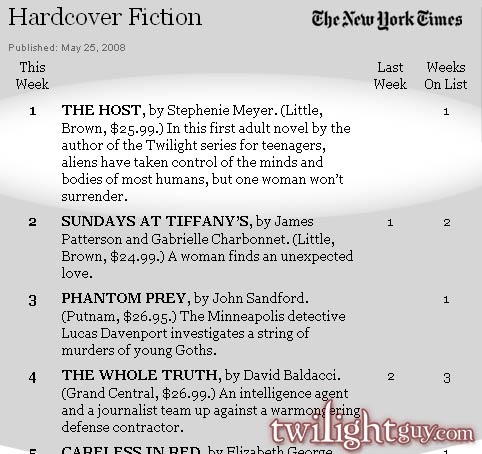 What makes is sweeter is The Host came out around the same time as a new James Patterson novel. Now I don't know about you, but Patterson is pretty much one of the reigning kings of fiction, and she just bumped him right down just like she did with Harry Potter. Besides that, this is Stephenie's first book in a new genre. Now, she has the top Children's Series Spot AND the top Adult spot. If she were to just write her own encyclopedia, she might nab the top Non-Fiction spot as well 😀 .
Congratulations to Stephenie!
Posted in Stephenie Meyer