Reading Twilight: Chapter 14 (Mind Over Matter)
June 9th, 2008 at 12:09 am by Kaleb Nation
The song for this chapter is First Time by Lifehouse (suggested by Czarina)
[audio:https://twilightguy.com/music/firsttime.mp3]
I know I should be studying for my abysmal college exam tomorrow, but as I'm sure you can relate, I'd much rather be getting to the next chapter of Twilight instead. It is like choosing between a can of mutant roaches or a vat of Reeses ice cream. Apologies to my professor. Twilight wins out.
Lo and behold, right off the first page of this chapter, Edward has become a chap I might enjoy hanging out with, simply because he listens to 50's music. Granted, no one can tell that by the stuff I usually listen to, but hidden in my media player is more than a few tracks from Little Richard, like this one:
[audio:https://twilightguy.com/music/goodgollymissmolly.mp3]
Or the ever famous shout for Lucille:
[audio:https://twilightguy.com/music/lucille.mp3]
I can just imagine Edward twisting and shouting on the dance floor. Which makes me imagine Bella attempting to twist and shout on the dance floor, which would be the epitome of disaster. No, actually this would be the epitome of disaster: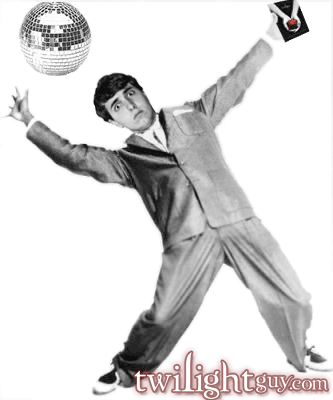 the look on my face says it all
Anyhow, as I continue reading (with Lucille blaring in my stereo), Bella is coincidentally having the same meal I am munching at this very moment, and the same meal which I warned The Lasagna Burglar about stealing again. I also realize that the Other Good Vampire Family lives in Alaska, and I was just recently there. I could have been staying in the clutches of vampires without even knowing it. Shudder.
This line is a premonition of the future, if not to be revealed in this book but in a future one:
(Edward talking about Alice) She knows other things. She sees things — things that might happen, things that are coming, but it's very subjective. The future isn't set in stone. Things change."

His jaw set when he said that, and his eyes darted to my face and away (…).
Writers absolutely love this. The point behind this line is that Alice more than likely has already foretold something about Bella and Edward, but Edward doesn't want to believe it. He is reassuring himself with this that whatever Alice foretold has a possibility of not happening. It is a small, hidden paragraph, but this tells loads of what is going to happen in the future: something has been foretold that might not turn out to be the best.
Something that I noticed specifically in this chapter is how much Bella and Edward talk about everything. There are quite literally few words left unspoken about what they are feeling. It is as if since they cannot just outright read each other's minds, they have decided to voice what they are thinking, in a way to break down the barriers between them.
According to this, the #1 leading cause of divorce is the unwillingness to communicate lovingly. People just don't talk (I can see girls pointing at their guys right now). However, for Bella and Edward, it's very obvious to both of them (and us) how they feel about each other, because they actually say it to one another. Fellows: this is very important. There is a reason that 85% of a Twilight chapter is conversation and dialog between Bella and Edward, directly proportionate to the reason girls feel that Edward and them would make such a perfect couple.
The important thing to note is that conversation does not mean simply talking about what you want to say. As put by an email I recently got:
'(…)wouldn't it be wonderful to be able to sit in a car with a guy and gush about Antonio Vivaldi, instead of, say, Grand Theft Auto IV?' .
Also, another girl continues the thought with the reassurance:
'If we could just get you to watch one chick flick with us (um, The Notebook, anyone?), we would be more than happy to leave you guys alone with whatever you want to do, no problem (…) and I wanna tell him, why don't you freakin soften up the macho and say why you love me (like Edward, duh)?'
It's not something that needs to monopolize your time: it's just the fact that Edward at least puts out the effort. Many girls actually enjoy talking about GTA IV or sports, but as put by the second emailer later in her message: 'not every single second of every single day of every single(…)occasionally, something different is what I'd like (to hear).'. Bella and Edward have probably spoken on deeper levels than many married couples out there today, simply because they're willing to communicate lovingly with each other.
On another note, thanks to Youtube, I can't see Charlie's name without picturing a grumpy unicorn and his irritating friends.
——NOTES——-
– I have two Mitch Hansen Band CD's to give away this week from TwilightTeez.com, as well as the regular shirts. Mitch Hansen, as you may know, makes music based off Twilight. Anyone who comments here until the end of the week is entered.
– I absolutely must mention Novel Novice, which is a new Twilight site written by an 8th grade teacher. Right now, she's doing a countdown of her favorite Top Twilight sites, and lo and behold– TwilightGuy.com got number 4 (and gasp, mayhaps even an offhanded comparison to Mr. Darcy?). Thanks Ms. Truitt!
– TwilightTeez.com is running some Twilight Guy specials in preparation for Father's Day. You should check out some of their stuff! Lots of it was designed by fans or by Stephenie herself.
– The Fantastic TwiHards are trying to start a Mr. Fantastic TwiHard channel! Go check them out and message them if you're interested in trying out 😀
– I am up to May 28 on email replies. If you emailed me before then, check your bulk folder in case I was marked as spam.
– There are currently over 50 entries for the TeamTwilighter auditions on Youtube! If you haven't put yours in yet, now's the time. And while we're talking about Youtube…I'll have a new video soon. Subs to my channel see it the evening before, so if you're on there you can subscribe here.
Posted in Twilight
Tags: chapters, Meyer, Stephenie, Twilight