Reading Twilight: Chapter 15 (The Cullens)
June 12th, 2008 at 12:10 am by Kaleb Nation
The song for this chapter is Valentine by Jim Brickman (suggested by Jodie)
[audio:https://twilightguy.com/music/valentine.mp3]
I had no clue how much expectation is on my shoulders from readers of this site, until yesterday evening, when I received quite a few sour messages asking why I had done a second TwilightGuy Reports instead of a new chapter. The reason is, on occasion, I must take off Wednesdays, as well as the usual post-less Sundays. It gives me a chance to answer email and get caught up on things, like cleaning out my writer-junk or studying for exams. But never fear: I'm back, and with me are The Cullens!
It is in this chapter that I finally get to meet the elusive family of vampires. At least, I get to meet most of them. Two are not there, and I'm beginning to get the feeling that for some reason, they were told to stay away while Bella was around. I also feel a slight uneasiness as Bella enters the house: the same uneasiness an orange might feel walking into an orange juice tasting factory. However, Bella has Edward, and as long as he's there, no one will be leaping from the shadows to take a bite.
We writers are quite an odd bunch (if you haven't discovered already). Writers have gobs of fun with droll things like sentences, like rearranging the italics or commas in other people's books to find new meanings. Take for example:
"What's for breakfast?" I asked pleasantly. (…)

Edward rolled his eyes. "Just eat, Bella."
Entirely different meaning when you remove the comma:
"What's fer breakfast?" the goblin growled. (…)

Edward rolled his eyes. "Just eat Bella."
And Bella, I must simply disagree. There are etiquette books out there detailing how to dress when your vampire sweetheart takes you home to meet his vampire family: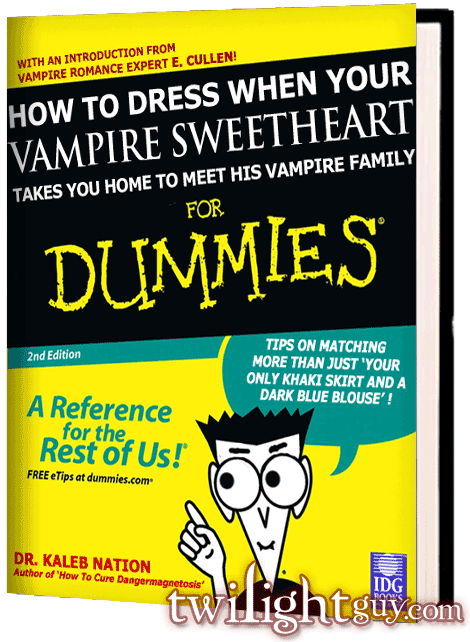 Edward on the piano is one of the most striking images I have found in this book. If anything, Annie Leibovitz could capture the scene well with a photo lit similarly to her shots of the Queen– a dark and slightly brooding mood. It is one of the scenes that I am looking forward to the most in the upcoming movie.
I have a thing for piano music. There are few instruments as soft and perfect as just a simple piano. Like Bella, I took lessons years ago but whined enough so my mom finally relented and let me quit. It is something I regret very much (I whined about writing, she did not relent, and now I'm an author — notice the pattern).
However, despite being unable to read music, I have found that I can play things by ear, and I still get the enjoyment that comes from making music. It is one of those things that calms the mind unlike anything else; so much that after leaving the piano home, yesterday I bought a new keyboard for my apartment, so I could keep making music for my own enjoyment. Nothing really compares to being able to compose your own songs, since it comes straight from your mind, untarnished by others who cannot capture it like you can yourself.
In this way, there is something special in the fact that Edward has written a song for Bella. It shows his feelings run far deeper than mere words. When making a song, the composer is thinking about something and trying to describe it in music, be it a certain scene or a feeling or a person. It is like painting a portrait of something from your imagination, but with sound. The fact that Edward has composed a song for Bella shows that she is on his mind so much, he cannot help but have her come out through his music. The sweetness of the notes describe Bella in the way that he sees her.
I realize that by always talking about Edward's many qualities, the guys who read this are about ready to throw something at me. After all, he is a piano-playing, sweet-talking, movie-star-looking vampire, with whom no real guy could go up against. However, I believe that a very big part of the reason Edward seems so perfect is the fact that he at least puts out the effort– and not only that, but even more importantly because he is sincere. So many guys these days can just tell girls what they want to hear, like a fake-Edward, in order to get what they want, and use shallow words to make it seem that they mean what they are saying. But the sincerity of Edward's feelings towards Bella goes far beyond mere words or etiquette: he really does think about her all the time, and it's the little things like his music that are a reflection of that fact.
On a completely different note, if this was the stereotypical vampire novel, this paragraph would happen differently:
"It's nice to meet you all — you have a very beautiful home," I added conventionally.

"Thank you," Esme said. "We're so glad that you came."

Then she snickered. "But this room isn't as beautiful as –"

She suddenly lunged to pull a nearby lever and shrieked. "–the dungeon!"

And that was the last we heard from Bella Swan.
——NOTES——
– I just finished a draft of a new song, and if anybody is interested I'd love to get you opinions on it. It's part of a project I'm doing to compose a soundtrack score for my book. You can hear the song on this page and leave opinions for it there. I'm not sure how good I am at it, so any input is great 😀
– Remember – anyone who comments this week is entered in the contest for a Mitch Hansen CD from twilightteez.com . I'll email winners next week. Oh, and if you want it, maybe mention somewhere in your comment like 'gimme the CD!' or similar, so I know who's in 😉
– I have been getting lots of messages recently from girls apologizing for reading my site. For some reason, a few people think this site is only for guys. That is nonsense. Girls and guys are welcome, though I'm only looking for Twilight stories from Guys (on the Guys page).
– I apologize for a lack of new videos on my Youtube channel. I'm planning a few new ones very soon – time has been evading me. But I just wrapped up a completely new intro which is boatloads better than the last one. You'll be seeing it soon.
– If you won a prize either through a post or TwilightGuys Report, I will be getting an email to you at the end of this week for your shipping info. I'm just super behind due to exams and 4 chapters I am now forced to read tonight between…midnight and 2 AM 😀 . No sleep for the Twilight Guy!
Posted in Twilight
Tags: Alice, Bella, Books, Cullen, Edward, Family, Kaleb, Nation, Twilight, TwilightGuy