Reading Twilight: Chapter 16 (Carlisle)
June 16th, 2008 at 12:05 am by Kaleb Nation
The song for this chapter is Here (In Your Arms) by HelloGoodbye (suggested by Holly)

[audio:https://twilightguy.com/music/hereinyourarms.mp3]
Thanks to it being shorter than the previous, I was able to sink my teeth into the next chapter of Twilight on a Monday. Which was good, because Tuesdays I'm in class all day, and would have been forced to leave it at home (as if I'd actually hide quiz answers in the pages of Twilight). Where I left off, they were on their way to meet Carlisle…
Speaking of him, I was much impressed by the age of Carlisle. After all, he has seen quite a great many things in his life. The reason, I realized in this chapter, that these vampires all seem so wise is because they have decades more than we do to gain it. With the added years comes added wisdom, so it would be little wonder if Carlisle is a renowned doctor, due to all the studying he could have done by now. Carlisle is so old, he might have even gotten to see this without security glass: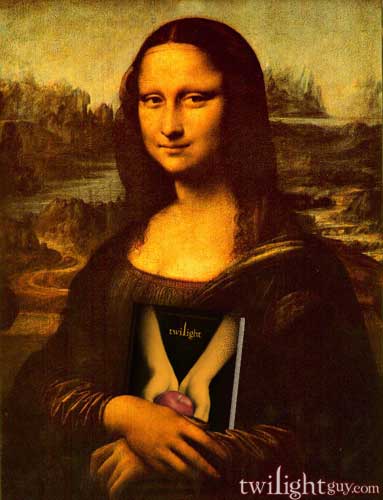 No Wonder The Mona Lisa Smiles
What I really found interesting about Carlisle Cullen is the fact that he was a reluctant vampire. When he found out what he had become, he immediately hated himself and tried everything he could to get rid of it, to the point of multiple attempts at suicide. I have a deep feeling that his pain was because of what he had been before. Here he was, the son of one of the most prominent witch-burners, and now he had been turned into the very thing he had set out to kill.
I see so much potential for Carlisle in the rest of the books- so many facets to his character that can be explored. The character who has become the demon which he sought out to destroy, and now has to live with himself, is one that is in constant turmoil. Though he is not gotten into much so far, I can feel an underlying air of quiet torture that must have afflicted Carlisle for much of his life, remembering the things from his youth. What is more, is that everyone who Carlisle had known would be dead by now, save for those who were vampires.
I am curious as to if this is one of Edward's reasons for avoiding Bella at the beginning of the book. After all, he would know well from Carlisle how it might feel to watch your loved ones die and then spend hundreds of years more afterwards, still wandering the world. It might be that he was afraid to be close to Bella because of this: or that he hopes that he might turn her into a vampire, and they can be together forever.
But, I have a feeling it is not that simple. There is an inner turmoil within Edward: he loves Bella so much that he is willing to risk whatever might be coming, even if it will mean that he is hurt. The near-endless life of a vampire opens up new questions as to what Edward is going to do in order to keep Bella with him. I'm certain I will soon be finding out whether this means she must become a vampire, like him, or if he must keep her as a human, and have her die without him.
As a side note, I'm sure he meant well, but for some reason, I picture Carlisle's father as the Burgermeister Meisterburger (add that to my list of ruinations, next to Bella's Truck, Coach Clapp, and Charlie ).
Sometimes I think of crazy things that have absolutely nothing to do with what Stephenie is trying to convey. In fact, there are times I am sure she just smacks her forehead and wonders why this Kaleb fellow's insane brain was ever allowed free reign across her work. Take for example the first thought that came to my mind after reading this line:
"It sounded like you were having Bella for lunch, and we came to see if you would share," Alice announced.

"Sure, fellow vampires!" Edward said joyfully. "We can all have some Bella Swan, at Kaleboni's!"

"Gee willikers!" a voice said. "Kaleboni's is the best! Everything a true respectable vampire could want!"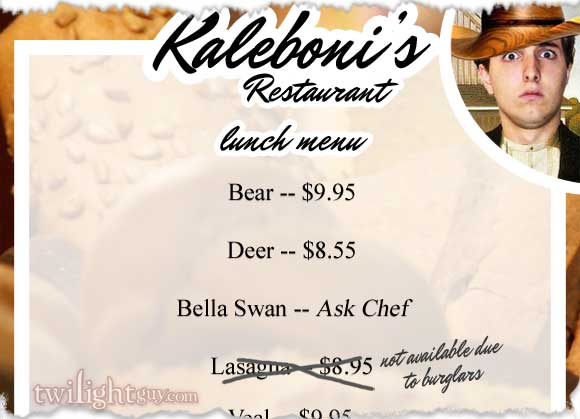 I also doubt the 'ball' that vampires play is that much similar to what most humans would imagine. It's like wizard-chess. Or Jedi-volleyball. Vampball must be different. I can't wait to see how this goes in the next chapter 😀
I chuckled imagining alternatives to this line:
Edward: "Carlisle stayed with them for only a short time, just a few decades."

Edward yawned: "This house wasn't that expensive, just a couple trillion."

Edward sighed: "I'm not that popular, just 98% of girls adore me."
If I was there, I would have loved to dig through Edward's music collections, and perhaps sneak away with a few of his 50's albums 😀
——Notes——
– I am loads behind on email. I apologize so much for making everyone wait so long for a reply, and I promise I will still get back with each one. If you sent an email before June 1, and have not gotten a reply, check your spam filter.
– Someone emailed that there was a rumor at their school that I was coming to Illinois to give a speech. I have no clue where that one came from, but it is false.
– For my last Youtube video, I became the proud receiver of The Best Pan-Hat Award. Mayhaps I should make a pan a permanent part of my head wardrobe 😉
– The Twilightaholics are looking for members for their Twilightaholics Youtube channel, so check them out if you're still in the auditions mood!
– I am shocked at the vast amount of people who still ask this question: Why do you call yourself Kaleb Nation? The answer is very simple: My Name Is Kaleb Nation. Nation is my last name. I think people are confused into thinking it's like Kaleb World or Kaleb Planet or something. But no, it is my last name 😀
Posted in Twilight
Tags: Bella Swan, Carlisle, Carlisle Cullen, Chapter, Cullen, Edward Cullen, Stephenie Meyer, TwilightGuy