Reading Twilight: Chapter 17 (The Game)
June 19th, 2008 at 12:10 am by Kaleb Nation
 The song for this chapter is Stand By Me by Ben E. King (suggested by Yolanda)

[audio:https://twilightguy.com/music/standbyme.mp3]
After being previously left off right before a game of Vampire baseball, I was very eager to get back: especially since I was nearly guaranteed to find out what it was due to the title of this chapter. Unfortunately, after being submerged in central-Texas, KISS-FM radio and culture for nearly half my life, anytime someone says 'The Game' I immediately think of this song:
[audio:https://twilightguy.com/wp-content/uploads/2008/06/hateitorloveit.mp3]
Before the baseball game (which was fun to watch, by loads), trouble appears on Bella's street. Jacob Black is back, and Edward is not happy about it. There is a deep loathing between the two, and I am getting the feeling it runs much deeper than vampire and werewolf ties. Edward, specifically, does not like Jacob in the vicinity of Bella. Whether this uneasiness is the fact that Jacob is another guy coming around Bella or that Edward feels that a werewolf might be threatening to her, has yet to be seen (at least, for me).
As I read this chapter, there is a certain warning brought up by Mr. Black about Edward, which made me recall an email I recently got from a non-fan of the books. She pointed out to me in a very direct (though oddly composed) manner that Edward scared her. She directed me to places where Edward follows Bella around town, sneaks into her room at night, and is always lurking in the shadows at odd times of the day. Her claim was that any guy who did that to her would find himself receiving a world-class restraining order.
However, though I can see the concerns of her and Billy Black (and many Jacob-fans, I am guessing) there is an opposite side that should be considered by the anti-Edwards. His motives are so sincerely well-intentioned that Bella knows he would never cross the line. In fact, he has had multiple opportunities to hurt her. He has even stated it before, while they were far out in the middle of the meadow. Bella is also well aware that she couldn't do much against Edward if he tried.
If a real guy outside the books was to imitate those aspects of Edward, almost any girl would be wary of his motives. Edward, on the other hand, has displayed many times how much he values Bella. He is appearing out of the night, popping up in Bella's house and following her when she leaves with her friends– but, instead of being a stalker, it seems that Edward feels to Bella more like a constant bodyguard, always watching out for her and trying to stay close as often as he can. Trust is a very important thing, and the building of it has been meticulously done by Edward.
My favorite thing so far I have found about the Cullens is how they are so instantly organized into a team. The moment Alice picks up on danger, they are ready to defend against it, and each of them has a certain ability which will aid them. In a way, they remind me of the Incredibles, but more…vampirey.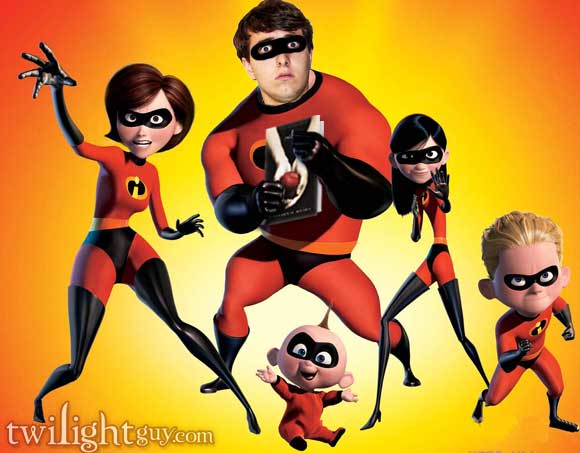 Again, the look on my face says it all

Also, reinforcing what I said above, the moment that danger to Bella becomes the slightest possibility, Edward tactfully drops out of the game. Without saying, he replaces Esme so that he is near Bella in case of any trouble.
I very much enjoyed this chapter, not only for that revelation, but also because of the sudden twist at the end. When Alice suddenly senses something rapidly approaching in their direction, the story takes a turn into something more thrilling for us guys (fellows: take note, I feel there are bad vampires on the way, and bad vampires spells Vampire Action Scenes). Also, Alice worries they will smell Bella:
"That won't help," Alice said softly. "I could smell her across the field."

"Dangit!" Edward said, removing his cowboy hat. "I told her to take a shower."

"Wait a minute," Alice sniffed again. "It's not her, it's you."

"Dangit!" Edward whined, replacing his cowboy hat. "Vampires don't need showers!"
Someone recently asked me which chapter was my favorite so far, and I replied with an earlier one.  However, upon reading this one, my favorite has immediately been changed to Chapter 17. I will also admit to being unable to resist reading the first page of Chapter 18; and if not for another college exam tomorrow, I might have just kept going 😀
——NOTES——
– I have a goal of 1000 Youtube subscribers by the end of summer. I'm around 700 last I checked. So if you find the videos on my channel interesting, go ahead and click that bright yellow button 😀
– Yolanda, if you see this, I know you actually picked Stand By Me for chapter 18. However, I chose to use it early, because it is a song that sounds perfect for a vampire-baseball scene
– Added: according to some early comments, I must be victim to spoilers. Obviously, Jacob is not a werewolf yet (or I am not supposed to know this yet). Which leaves me slightly confused, as I was certain it was mentioned somewhere… 
Posted in Twilight
Tags: Chapter 17, Kaleb Nation, Stephenie Meyer, The Game, Twilight, TwilightGuy