Reading Twilight: Chapter 18 (The Hunt) AND Chapter 19 (Goodbyes)
June 23rd, 2008 at 12:09 am by Kaleb Nation
 The song for this chapter is Supermassive Black Hole by Muse

[audio:https://twilightguy.com/music/supermassiveblackhole.mp3]
As you all surely noticed, something is different about this post, and the difference is that I have covered more than one chapter. One of these is my excuse:
A band of masked Twilighters led by Bailey leapt through my window, chained me to my desk, and threatened to stone me with textbooks if I didn't read faster.  Or:
I caught a fatal type of Dangermagnetosis and must now read double-speed in order to finish before my premature death. Or:
Stephenie ended Chapter 18 at a part in the story no sane being, male or female, human or vampire, could set the book down.
Yes, I just kept on from 18 to 19, and might have gone onto 20 if I hadn't stopped myself. In a flash it transformed. The beginning of the book was great (I'm a guy, so Edward-gushing wasn't completely my type of reading), but this part is thrilling. Vampire action? Vampires running beside the car, chasing and tracking Bella down? If there are any guys reading this, still on the fence about reading Twilight, know that the romance and stuff guys don't usually enjoy, at the beginning of the book, is entirely worth it for what is happening now. In fact, those parts are of great importance to make this part of the book so strong, so you know just how imperative it is to Edward that Bella stays alive.
There are hardly words to be said about this chapter, as I'm still trying to resist pulling it off the shelf and jumping right into the next part. Like I said at the beginning of this site, I am not one who has ever enjoyed vampire books or movies. For some reason, they just didn't click with me. But Stephenie's have completely rendered a new view of vampires in my mind– from the old Dracula with capes into something worthy of vamptastic.
In these chapters, there is a very strong tension in the air at all times, which is handled so masterfully I can't get over it. Somehow, I can feel James watching from the shadows, circling the house, running next to the car– this constant danger that at any time could strike from the dark. At the same time, Edward is there as well, showing an aggressive side I have not yet seen. He has gone instantly from this romantic fellow into a vicious, dark defender, ready to hunt James at whatever cost. The prospect of having to tear James to shreds and burn the pieces does not even sway him for a second from what he has to do. There is a driving force to protect Bella that leaves no room in Edward's mind for questioning what has to be done. She's worth whatever it takes for him to keep her alive.
Believe me when I say that the absolute, sudden shifting from a romance into a page-turning thriller within the space of 20 pages had me shocked. Regular vampire romances do not do that. However, Twilight is not a regular vampire romance.
Unfortunately, my mind wandered off again, snickering back at me as it did:
"What's your hunting range?" Laurent casually inquired.

"Somewhere in that direction," Carlisle said, pointing. "But, you might rather wait a month or two. After all…"

He gestured towards a sign which read: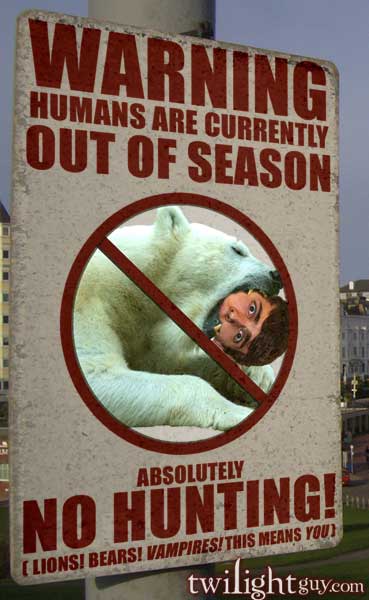 I am looking forward to grabbing Chapter 20 with the greatest anticipation, and hoping that I can resist from just leaping upon the rest of the book and devouring them all at once with near-vampiric fury.  😀
——NOTES——
– I'm about ready to celebrate: my Youtube is up to 870 subs! My goal is 1000 by the end of summer, so if anybody likes Youtube be sure to check out my channel.
– This week is my final exam in college before summer break, and then I will be much free-er to get back with everyone's emails. However, I just received the editorial letter for my novel. Thus, following June 27, my email-answering speed will fall again while I work on that. But I will still reply!
– For those who haven't heard, most of Stephenie's Breaking Dawn shows were sold out within the hour. Wowsa. So you were all right: my 3 hour guess was way too much 😀
Posted in Twilight
Tags: Stephenie Meyer, Twilight, TwilightGuy