Reading Twilight: Chapter 20 (Impatience)
June 26th, 2008 at 12:05 am by Kaleb Nation
 The song for this chapter is Snakes On A Plane by Cobra Starship

[audio:https://twilightguy.com/music/snakesonaplane2.mp3]
I mentioned in my last two chapter posts that I had a goal of reaching 1,000 Youtube subscribers for my channel before the end of the summer. Out of anyone in the world, I should have known what would result. Within two days the goal was reached, and what is more, I'm nearing the 1,050th subscriber as I write. You people are truly amazing and I can't thank you enough!
While on the topic of numbers, I have leapt right into chapter 20 and realize that there are only four left before I finish the book. How fitting of a title for this chapter! I seems to describe the very feeling I detect being aimed at me:
email I got Monday (GL– I promise I'll still reply):

Hey Kaleb a.k.a. Twilight Guy! Alrite, I just have one thing to say…CAN U HURRY IT UP ALREADY? Look, me and (almost) everyone i know have been waiting PATIENTLY for you to get to New Moon, which is my FAVORITE of them ALL. (…) so, you did two chapters last time…how about…FIVE next time?

G.L.
Sheesh! In Chapter 20, the obvious question that has been lurking in the back of my mind is finally voiced by Bella: '…how do you become a vampire?'
Alice's answer gave me some insight into why Edward was originally avoiding Bella. If the transformation is so powerful and painful, he would more than likely not want Bella to experience it. He seems to have wanted to distance himself from her, though his feelings for Bella were too strong for him to leave. This leaves a number of questions in my mind, as to if there are any alternatives, or if there is a way to reverse the procedure. Or I might just be reading much too deep into it…
When it came to the part where they were describing what was happening with James, I was suddenly caught by the line where he got onto an airplane. A thirsty vampire on an airplane full of people is not a very palatable thought. After all, I am claustrophobic enough without having to glance over my shoulder every few minutes to make sure the person behind me isn't sniffing the air or looking at me like a tasty snack. If anything, there should at least be added security measures for vampires wanting to board airplanes, maybe even a completely separate entrance and seating arrangements.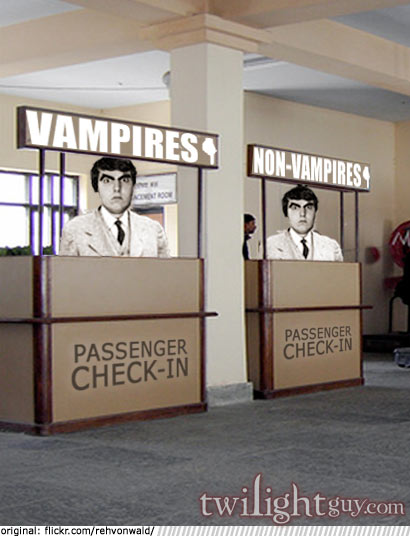 Welcome to Vamp-Air
The elaborate plans weaved by the Cullens only make them that much cooler in my mind. Not only have they traversed the country in different directions in order to lead these other vampires off, they are keeping up with people they must protect in multiple cities.
Also, the entrance of the ballet hall was a delightful twist. Like everyone here, I have also seen the trailer for the upcoming film. While reading the book, I have been waiting anxiously to see where that scene with the mirrors comes in. Sadly the trailer served as a partial spoiler, as I know something will happen there and I'm on the lookout, though I haven't a clue how they'll get there, and for which I am very ready to see in one of the next chapters.
 ——NOTES——
-Remaining posts for this week will be shorter than usual: I have two college exams. On the eve of June 28th, however, it all ends for 2 months, and you should be able to hear my cheer around the world.
– Stephenie's Breaking Dawn events: mostly sold out within hours. It appears (according to Stephenie's site) that Seattle is still open, though I searched for tickets and it says they're out. I immediately went to eBay to see how much these are going for. Let's just say you can get eight Hannah Montana tickets in exchange for two Stephenie Meyer. Or, a pair of Christina Aguilera's pants. So, those who got them: they're worth far more than their weight in gold. Hold on to them tight!
– For those of you keeping up with the various snacks I have enjoyed whilst reading chapters of Twilight, go ahead and add 'nachos' to the list. That makes lasagna, pizza, popcorn, ice-cream, sandwiches and nachos. Any special snacks I should try as I near the final chapters of Twilight?
– For those who have scruples against reading FAQ pages, and continue to friend me on Facebook: thanks so much, but I'm sorry, I still can't unless I know you personally. My Myspace is so much better 🙂
– Big announcement coming soon.
Posted in Twilight
Tags: Kaleb Nation, Stephenie Meyer, Twilight, TwilightGuy