Reading Twilight: Chapter 21 (Phone Call)
June 30th, 2008 at 12:04 am by Kaleb Nation
The song for this chapter is Broken by Seether and Amy Lee (suggested by Sarah)

 [audio:https://twilightguy.com/music/broken2.mp3]
Thanks to the many suggestions of snacks I should try for the next chapter of Twilight, I have taken one I got by email and consumed it: cereal. I know, how abysmally boring. But, a snack nonetheless, and one to add to my list as I venture into the serious and interesting business of Chapter the Twenty-First!
Somehow deep down I knew that James would find a way to get Bella's mother before they had a chance to save her. The visions seen by Alice spelled to me that he has been lurking in the area, and it was only a matter of time before he found the only hole in the Cullen's plan: no one was watching Renee. After all, there are only so many vampires to go around, and us weakling humans haven't a chance to fend for ourselves. It is in times such as these that one wishes there was at least something resembling a Vampire Police Force to be called, in order to deal with this odious hunter.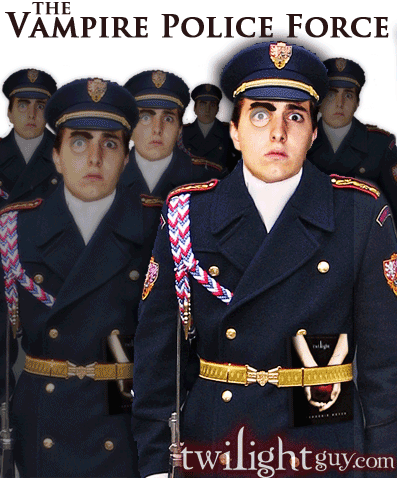 Now there's a scary thought
The truth of the matter is that Bella has already seen the powers of vampires through Edward: actually, she's seen quite little of it due to Edward's reservations from hurting her, but what she has seen is enough. She knows well what James could do if he wanted. And she knows she has no choice but to go to him.
It would be a strange feeling, knowing that you are walking towards your death, with little or no hope for something happening to save you. In the back of Bella's mind, I know she wishes that Edward would show up: but the other side of her knows that if he did, he might be killed with her, and her mother– and anyone else James might strike out against in revenge. The feeling that your hunter will kill you no matter how much you try to fight him is one that usually only resides in nightmares.
I can remember a very odd dream I had when I was about 10, and it was so terrifying I remembered it when I thought about Bella in this chapter. I was lost in a labyrinthal house, and no matter which hall I went down, I was always turning in the wrong direction. I could see through windows outside to a very bright desert, but I just couldn't get out. What made it worse, however, was that the hallways were made of old wood and were so thin I had to squeeze through in places. And, not to be left out: the woman hunting me in the halls with the pitchfork, who literally said her name in the dream and still sends shivers down my spine when I think of it.
The feeling was one of utter lack of hope of every getting out: very vividly that I had no other option but to stay in that house and die. It immediately makes me think of Bella now, who is on her way basically to be killed: and not only that, but to be killed by a vampire who is a hunter.
It might just be misguided, but in my mind a Hunter won't just kill his prey. More than likely, he will want to chase her down, like a lion hunting a mouse. Already, it seems that he actually enjoys the hunt far more than the kill itself, and I gravely doubt also that he plans to let Renee go after Bella arrives.
We shall see in the next chapter.
——NOTES——
– Thanks to you, I have now passed 1,000 friends on Myspace! Thanks everyone over there.
– Don't forget to keep suggesting songs if you haven't already! The nominations end this weekend and voting begins the same day! Just so you know, there were over 5,000 songs suggested in the first 48 hours. And guess who has to dig through them all at the end of this week? (*faints)
– I just caught up on all emails up to June 4. If you sent a message before June 4, check your spam box. All others: I will reply soon!
Posted in Twilight
Tags: Kaleb Nation, Stephenie Meyer, Twilight, TwilightGuy