Reading Twilight: Chapter 22 (Hide And Seek)
July 3rd, 2008 at 12:05 am by Kaleb Nation
The song for this chapter is Enemies by Ryan Cabrera

[audio:https://twilightguy.com/music/enemies.mp3]
As I opened up to the third-from-the-last chapter of Twilight, I accidentally leaned back in my chair, scraping the edge of the cover against the side of my desk. Alas! There is now an injurious scratch on the edge of the book's spine, with part of the black peeled away to show the white paper underneath. It is a sad sight. But one which made me think of the old velveteen rabbit: obviously, I've been getting loads of reading out of this one (though my recent mistake probably merited me this again).
Recommendation: do not attempt to eat salsa while reading Twilight, especially this chapter. For, as I quickly discovered, when your eyes get to the end of the page, your mind does not care that your fingers are still clutching tortilla chips, and instinctively lash out to turn the page so the scene does not stop. The action and suspense have increased with Alice's vision and Bella's plans being made: and with Edward arriving very soon, Bella's got to be out of there in a flash.
Bella's escape from the airport was wonderfully planned, as she knew the area, and I could very nearly feel the other two close behind. However, it was James' plan that struck me by surprise. Go on: you can start laughing uproariously now. I caught a few giggles from people as I skimmed the comments last time, about how 'I was gonna find out' in the next chapter. I will admit, I was a little confused, since if Bella's mother was there, that would be an outsider who knew about the vampires: which would not be good at all. Still, I was not expecting James to have been able to put together such a scheme in so little time, so it took me by surprise.
Funny thing about ballet: the only ballet performances I have seen are two of my sister's, and a few of her practices at the studio. This studio was nearly a photocopy of the one which Bella was lured to: mirrors all about the walls so you could look one way and see yourself multiplied. The most interesting part about this studio, though, was the stairway which no one ever went up. Somehow it got into my head that the place was haunted at night, and an old witch lived upstairs. I figured she must have been a rather poor witch, forced to rent the rooms below out to noisy, screaming children practicing ballet below her feet.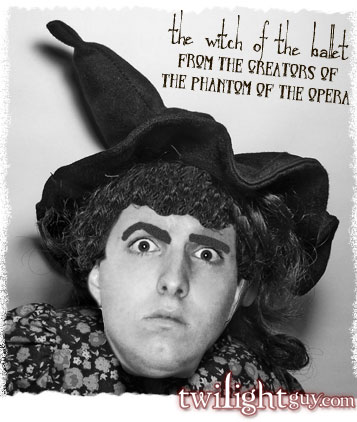 Move over Phantom. There's a new act in town.
I really enjoyed the fact that Bella actually went back to her house. The reason for this is that the book is now circular: the first pages start out shortly after Bella left her house. It is powerful, then, to see her return, and to think of all the things that have changed since then. Edward appeared. Bella was nearly hit by a car. The men in the alley. Meeting the Cullens. Losing count of guys asking Bella to the dance. So many things have happened, so that when I paged back to the beginning of the book, just to see it again, I was shocked to read Bella's oh-so-eloquent thoughts back on page 4:
 I detested Forks.
So much has changed since then. Bella's entire character has made such a transformation, this is what she thinks 22 chapters later:
 More fiercely than I would have dreamed I was capable of, I wished for the green, protective forests of Forks…of home. 
Not only have so many things happened to Bella, but she has changed completely as a person. Is this all because of Edward, I wonder? Or is Edward just a large part of it: a decoy that has made her open her mind to her new home and see things in a different light, that maybe Forks isn't quite as bad as she was expecting it to be.  Quite a change has come over her since she was last in that house back in Phoenix.
This was perhaps the most powerful line in this chapter:
There was no time to look back at my house, and I didn't want to see it as it was now — empty, a symbol of fear instead of sanctuary. The last person to walk through those familiar rooms was my enemy.
Again, it brought me back to the very beginning of the book: tying the two ends together. This time, it was a line in the prologue:
Surely it was a good way to die, in the place of someone else, someone I loved. Noble, even. That ought to count for something.
——NOTES——
– Someone asked me what I would do if I ever become a famous author. I decided to make a video answering that, which includes a newspaper, the back of Lemony Snicket's head, a phone call to Stephenie Meyer, a wall of photos that does not exist, and more. Also, sunburn. Check it out over here…

-The next round of picking the song for Twilight starts this weekend! I'll have the new voting form up with the top ten on Saturday or Sunday, but for now, you can keep suggesting songs (it's currently in the high thousands).
Posted in Twilight
Tags: Chapter 22, Hide And Seek, Kaleb Nation, Stephenie Meyer, Twilight, TwilightGuy