Reading New Moon: Chapter 8 (Adrenaline)
August 7th, 2008 at 12:03 am by Kaleb Nation
The song for this chapter is All Around Me by Flyleaf [suggested by Briana]

[audio:https://twilightguy.com/music/allaroundme.mp3]
It is 11:53 on Wednesday evening but probably past midnight for many of you, so sorry for the partially-late post! I've been all over town today getting a haircut, some food, one mosquito bite; but absolutely, positively NO Entertainment Weekly magazines. I have tried every store chain in this town, and not one of them carries it. So, the Youtube video I was planning to show it in has been postponed due to slow postal systems from New York 😀
Meanwhile, I was busy indirectly messing up people's autographs, as reenacted by Tech and Bailey in NY:
Now on to the eighth chapter of New Moon!
In the last chapter, Bella and Jacob just finished repairing both motorcycles and were planning their first test-drive of them. Allow me to demonstrate a tried and true formula:

I remember the first time I tried to ride a dirtbike, which is like a smaller (and perhaps easier) version of a motorcycle. The kids I was with were particularly reckless. They had an enormous, crater-like hole in the ground, and would ride the dirtbikes down the near-90-degree slope, then slam on the speed at the bottom in an effort to swing right back up the other side with momentum.
I, unfortunately, was not as skilled as they were with the bikes. I have horrid memories of getting stuck at the bottom, thrown off the bike, and then chased by it in circles as the remaining power left in the motorcycle engine wore off. It was not a pretty sight, and I am relatively well coordinated. I can only imagine Bella in this situation. The results, I later see, are quite catastrophic. I am keeping a running count of the times Bella has to visit the doctor due to partially-self-inflicted injuries.
Then, as before, Bella starts to hear voices in her head. This, and especially the multiple uses of the word 'hallucinations' in this chapter are leading me to be a bit concerned and wonder, like Bella, as to their source:
There was no familiarity here […] so the hallucinations must be triggered by something else…
I am specifically suspicious of Mr. Billy Black's so-called 'Ragu'.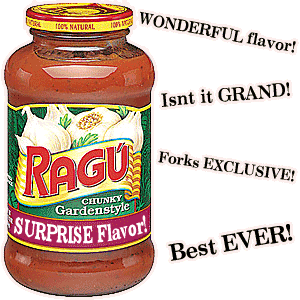 I'm not quite sure if it is the best of ideas for Bella, already hearing voices in her head, to go back and visit the meadow: that hallowed spot which bore such an important moment between her and Edward. But then again, it seems like just another in a long string of her reckless attempts at freeing herself from Edward's memory.I find it odd how they travelled for so long and yet didn't find it: and even odder that this time around, Jacob is with her. I see this strange line of events that almost seem to minorly mimic what happened in Twilight with Edward: except this time, Jacob is in Edward's place.
Again, as before, I see Jacob as helping Bella ease the pain of Edward leaving:
[…] I knew I would feel better tomorrow when I was with Jacob again. That made the empty hole and the familiar pain easier to bear; relief was in sight.
This brings up a point that was made to me by email: is Bella taking advantage of Jacob?
I hadn't noticed this before someone pointed it out to me, but the way the emailer put it, Bella might be simply using Jacob as a crutch to get her over Edward: just someone to pass the time and help her get over her heartache. I'm not quite in agreement with this, as it seems that Bella actually enjoys being with Jacob (and, certainly, vice-versa). But does anyone else think that Bella is manipulating things — or, on the flip side, that Jacob is taking advantage of Bella's loneliness to try and replace Edward with himself?
Yoiks: more bear sightings. Suspicion…
——NOTES——
– I've dropped in on the new chat a few times this week and thanks to all the people who were there! I'm hoping to come on sometime later this week again.
– I have a few more interviews coming up, though I'm not sure when they will be released. So if you happen to see me in any papers (a few are in Canada) send me a quick email so I know where I'm being talked about 😀
Posted in New Moon
Tags: New Moon, Stephenie Meyer, Twilight, TwilightGuy